That grey coat
An appropriate outfit for cold temperatures.
Ich habe euch ja vorgewarnt. Ohne meinen neuen grauen Mantel geht diesen Winter nichts. Er ist nicht nur das fehlende Exemplar in meiner Sammlung (haha, Anm. d. Red.), er ist tatsächlich einer der wenigen Mäntel, der mich bei den momentan eisigen Temperaturen in Salzburg wirklich warm hält. Er und meine Mou-Boots natürlich. Haltet mich bitte nicht für einen Jammerlappen, aber bei durchschnittlich -10 °C morgens, darf es dann doch ein bisschen mehr sein. Das habe ich mir bei diesem Outfit zu Herzen genommen und bin es richtig schön gemütlich und kuschelig angegangen. Das bedeutet bei mir nicht nur zu wärmenden Textilien zu greifen, sondern auch einen meiner liebsten modischen Trends auszuleben: den Oversized-Look. Der Pulli ein bisschen zu weit, meine Second-Hand-Levi's sowieso, knautschige Boots dazu und ich könnte mich nicht wohler fühlen. Deshalb habe ich das Outfit auch gleich zwei Tage hintereinander angezogen. Ganz Fashion-Blogger-like.
Wenn ihr noch nicht das richtige Exemplar für diesen Winter gefunden habt, kommen meine zehn Lieblinge vielleicht ganz richtig. Die Nummer 1 ist übrigens meiner.


ENG:
I have warned you. I'm nothing without my new coat this winter. Literally. It's not only the missing piece in my collection (haha), it's also keeping me really warm, which isn't that easy, when it's -10 degree Celsius in the morning. Well, my Mou-Boots are doing a good job as well to be honest. That's why I kept things simple and cosy with this outfit. I not only chose warm textures, but also went for my favorite trend: the oversize-look. My sweater is a bit too long, my second-hand-Levi's jeans too large, some slouchy boots and I couldn't feel better. So I wore this outfit two days in a row. Like a real fashion-blogger.
If you haven't found the right winter coat yet, my ten favorites might help you a bit. (Number 1 is the one I'm wearing.)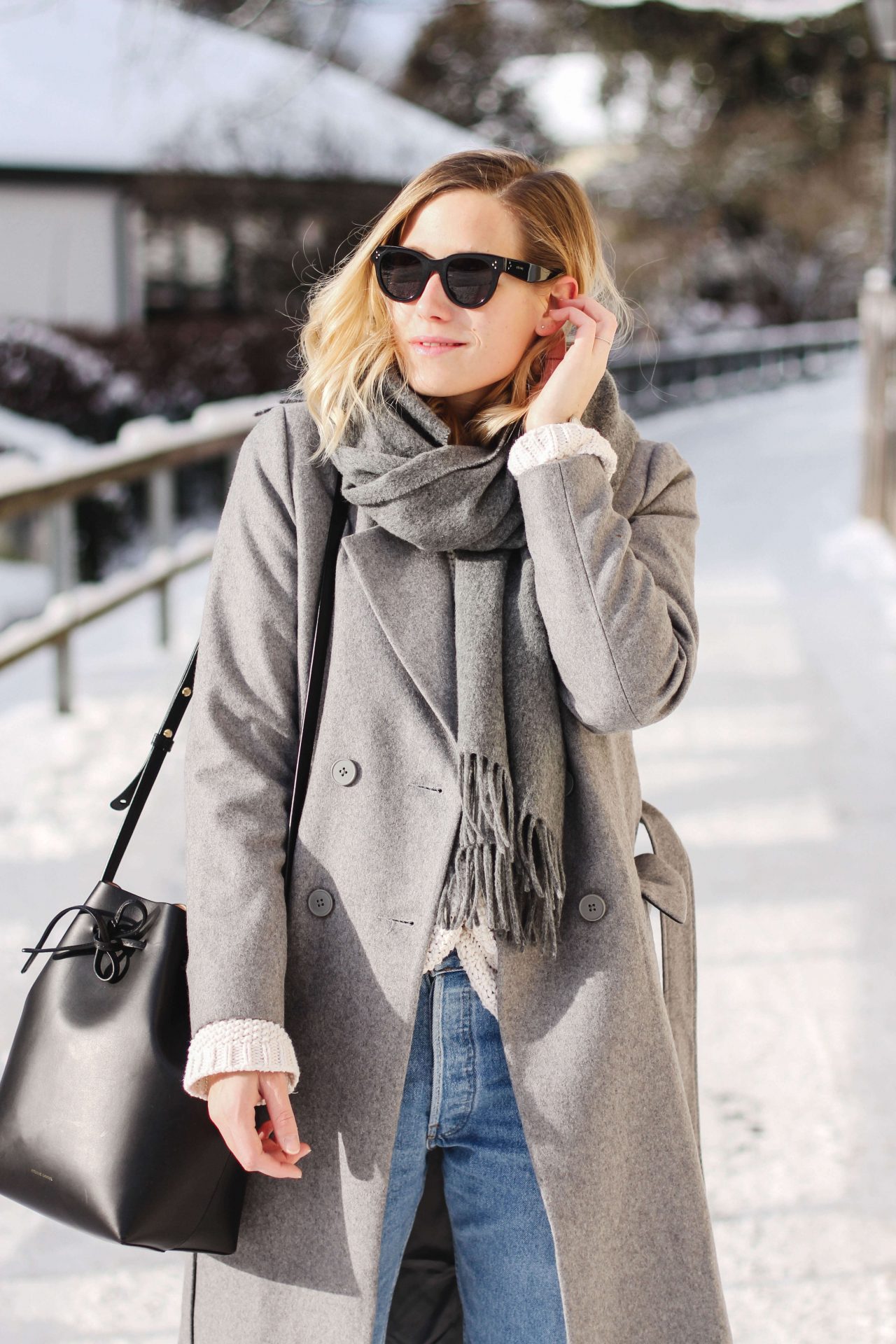 Coat: Minimum |Knit sweater: H&M | Jeans: Levi's Vintage | Boots: Mou | Sunnies: Céline Mini Audrey | Bucket bag: Mansur Gavriel | Scarf: Acne Studios