The teddy fur coat
One (more) reason to look forward to winter.
Erinnert ihr euch noch an meine heißgeliebte Teddyfell-Jacke vom letzten Jahr? Sie hat jetzt sozusagen eine große Schwester in Form eines Mantels bekommen. Und obwohl es eigentlich noch gar nicht "kalt genug" für sie ist, musste ich sie sofort ausführen. Es war – wieder einmal – Liebe auf den ersten Blick. Menschen, die mich dabei beobachtet hätten, müssten sich gedacht haben, "die ist ja nicht ganz …". Gesehen, innerhalb von 10 Sekunden anprobiert und schon bin ich zur Kasse spaziert, denn mit 60 Euro liegt dieser Mantel – wie ich finde – voll im Budget.
So soll es doch sein bei Neuzugängen, oder? Wenn das nur immer so leicht wäre… Bei den Lack-Sneakers von Puma (übrigens meine ersten) und mir hat es zum Beispiel etwas länger gedauert. Da Woman Day war, habe ich aber zugeschlagen und sie seitdem schon so oft angehabt, dass ich sagen kann, "auch dieser Kauf hat sich gelohnt". Sie sind bei Zalando übrigens gerade reduziert.
Das Armband, das ihr auf dem zweiten Bild seht, ist von einer guten Bekannten von mir. Es sieht nicht nur schön aus, dahinter steckt auch eine tolle Philosophie.
"I am in Peace ist gemacht für Querdenker und Freigeister, für Träumer und Umsetzer. Für die leisen und lauten Friedensbotschafter unter uns. Gemeinsam geben wir dem Frieden ein Gesicht."
Außerdem werden die Armbänder in Österreich gefertigt und 20 Prozent aus dem Verkauf gehen an Mary's Meals, eine internationale Hilfsorganisation, die Schulkindern mit einer warmen Mahlzeit versorgt. Also noch ein Grund mehr zuzuschlagen – und Weihnachten ist ja auch nicht mehr weit. Und alles in allem ein Look, der nur aus Lieblingsstücken besteht.

ENG:
Do you remember my beloved teddy fur jacket from last year? It has just got a big sister, in the form of a coat. Though it's not really "cold enough" for it, I had to wear it. It was – once again – love at first sight. People who had watched me would have thought, "what the …". Veni, vidi and  within 10 seconds I was on my way to the checkout. Plus: With 60 Euro this teddy fur coat is – as I think – a real bargain. That's how it should be with new arrivals, right?
If only that would be so easy all the time … My decision with the lacquer sneakers from Puma took me a little longer. As it was Woman Day, I decided to go for them and since then it have worn them so often that I can say "this purchase was worth it". By the way, they are just reduced at Zalando.
The bracelet, which you see in the second picture, is from a friend of mine. It does not only look beautiful, it also has a great philosophy behind.
"I am in Peace is made for lateral thinkers and free spirits, for dreamers and doers, for the quiet and loud peace ambassadors among us. Let's give peace a face. "
On another note the bracelets are manufactured in Austria and 20 percent of sale go to Mary's Meals, an international aid group providing school children with a warm meal. So one more reason to go for it – and Christmas is also not far away any more. Alltogether you can say this look is full of favorites.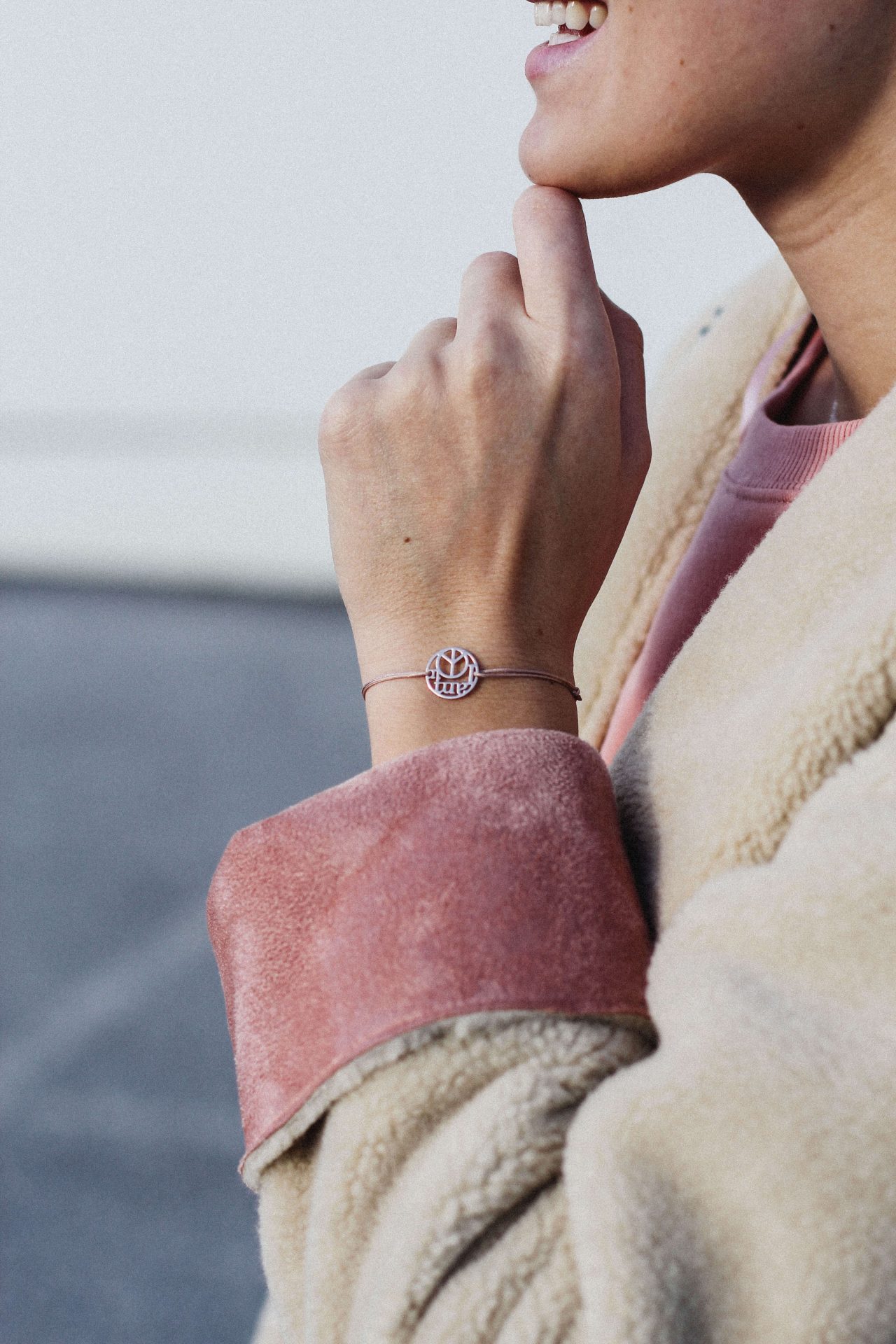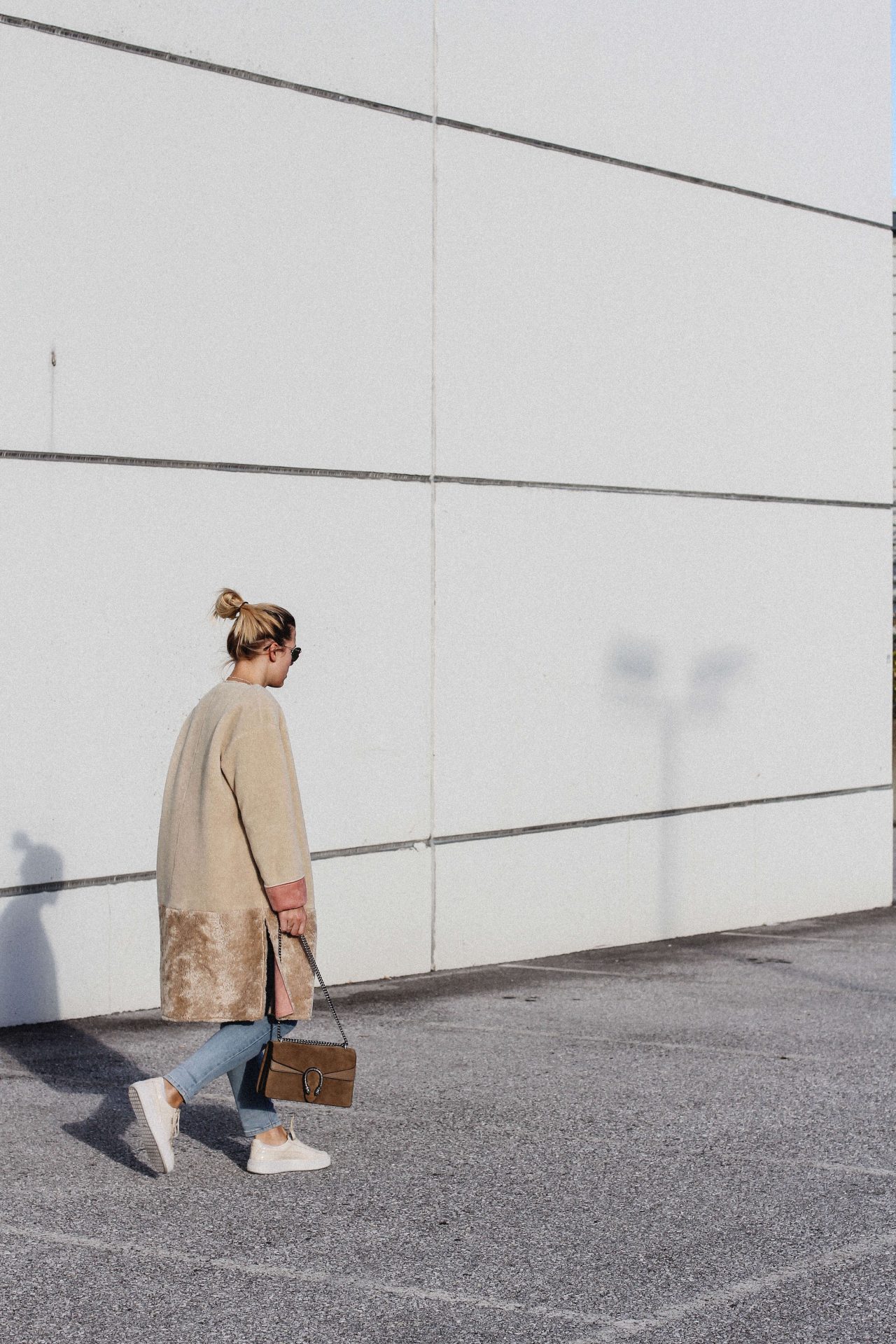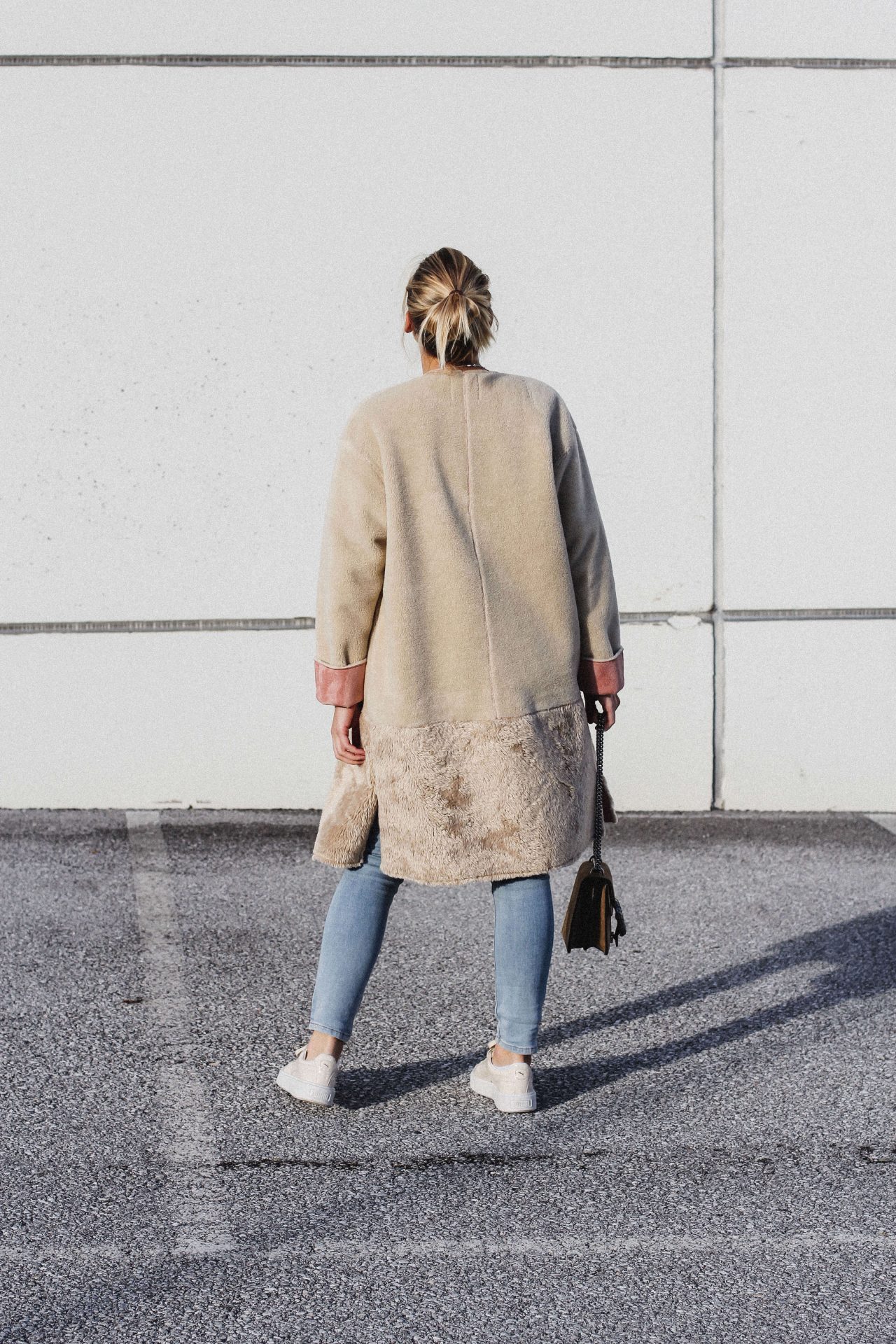 Teddy fur coat: Zara | Sweater: H&M | Jeans Cheap Monday | Sneakers: Puma Platform | Bag: Gucci Dionysus | Sunnies: Ray Ban Round Metal | Bracelet: I am in Peace*
*Sponsored