Sunny side up
Copenhagen travel look Pt. I
Auf diesen Bildern ist nur unschwer zu erkennen, wie sehr ich den Urlaub in Skandinavien genossen habe. Mir ist im wahrsten Sinne des Wortes das Herz aufgegangen. Ich habe so lange davon geträumt, Dänemark, Norwegen und Schweden mit eigenen Augen zu sehen (bis dato war ich nur einmal kurz für ein Konzert in Dänemark) und hätte am liebsten auch noch Finnland einen Besuch abgestattet. Und doch sind diese Bilder ein bisschen trügerisch, denn sie fangen einen der seltenen Momente von Sonnenschein ein. Rein gepäckstechnisch wäre ich ja für alles gewappnet gewesen, aber wie es der Wettergott so wollte, haben es vor allem meine langen Hosen, Pullover und meine gute alte Lederjacke auf die Straßen Skandinaviens geschafft. Denn es war nicht nur windig und teilweise regnerisch, das Wetter schlägt dort noch schneller um als bei uns. Im einen Moment noch strahlender Sonnenschein, kann es zwei Minuten später schon in Strömen regnen und wiederum zehn Minuten später ist alles vorbei. Das konnte unserer Laune jedoch nichts anhaben, denn nach zwei Jahren ohne Urlaub (abgesehen von kürzeren Wochenendtrips), haben wir unserem Roadtrip entgegengefiebert und ihn auch dementsprechend genossen. Nachdem mein letztes Jahr von einem Vollzeitjob als Social-Media-Managerin und dem Abschluss meines Masterstudiums geprägt war – schlechte Kombination – haben wir (Julian und ich, der mich immer unterstützt hat) uns diesen Urlaub einfach verdient. Bitte versteht mich nicht falsch, ich liebe meinen Job und auch meine Masterarbeit inklusive Prüfung lag mir am Herzen, aber beides auf einmal war einfach zu viel. So, nachdem ich hier also geschwärmt und das Herz ausgeschüttet habe, gibt es eigentlich auch nicht viel zum Look zu sagen, denn ehrlich gesagt habe ich nur darauf geachtet, dass es bequem und praktisch ist. Das war's und dementsprechend gut war auch meine Laune. Ja, und mein neues Top aus Amsterdam wollte ich natürlich auch gleich ausführen. Ich hoffe euch gefällt das Outfit und der Spirit zieht euch auch nach Kopenhagen – sofern ihr dort noch nicht wart.
ENG:
It's easy to see that I really enjoyed our Scandinavia trip. I have dreamed of visiting Denmark, Norway and Sweden for such a long time (I have only been to Denmark before for visiting a concert) and I would have loved to see Finland as well. And yet these pictures are a bit misleading, because they only show one of the rare moments, when the sun was shining. I was equipped for every weather, but I could only wear my jeans, sweaters and my good old leather jacket. Not only that it was windy and rainy sometimes, the weather in Scandinavia also changed within minutes. But that didn't darken our good mood – after two years without a real holiday, we couldn't wait for our road-trip to begin and we enjoyed every minute. After finishing university while working full-time as a social-media-manager last year– not a good idea –, we (Julian has supported me in every way) have really deserved this holiday. Don't get me wrong, I really love my job and I also worked with all my heart on my master's thesis and exam, but it was just a bit too much.
Ok, after raving about our trip and pouring out my heart, there's nothing left to say about this look, because – to be honest – I just wanted it to be comfy. This might also be a reason for my happy face, oh and maybe my new top from Amsterdam. I hope you like the outfit and you want to go to Copenhagen as well now – if you haven't been there before.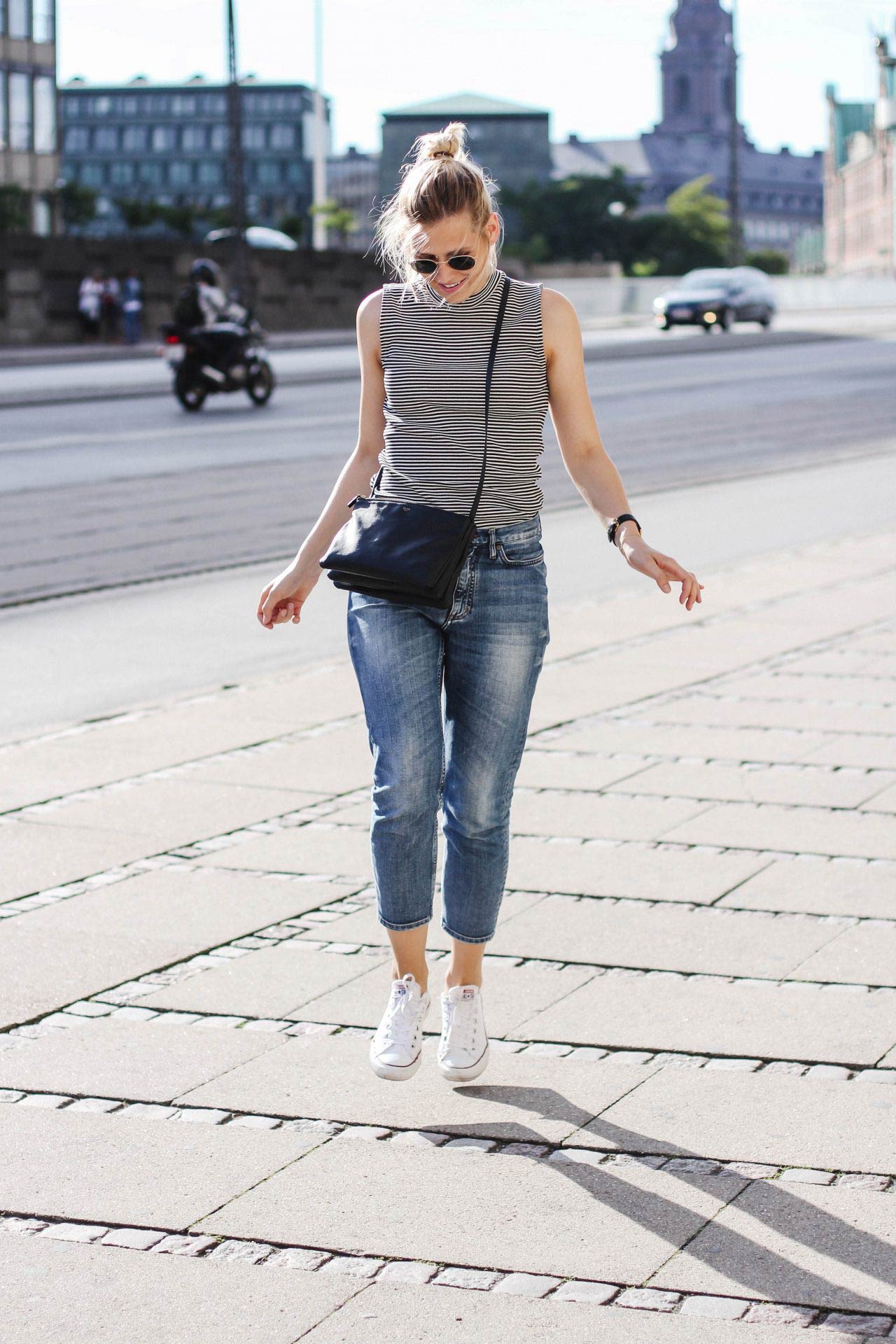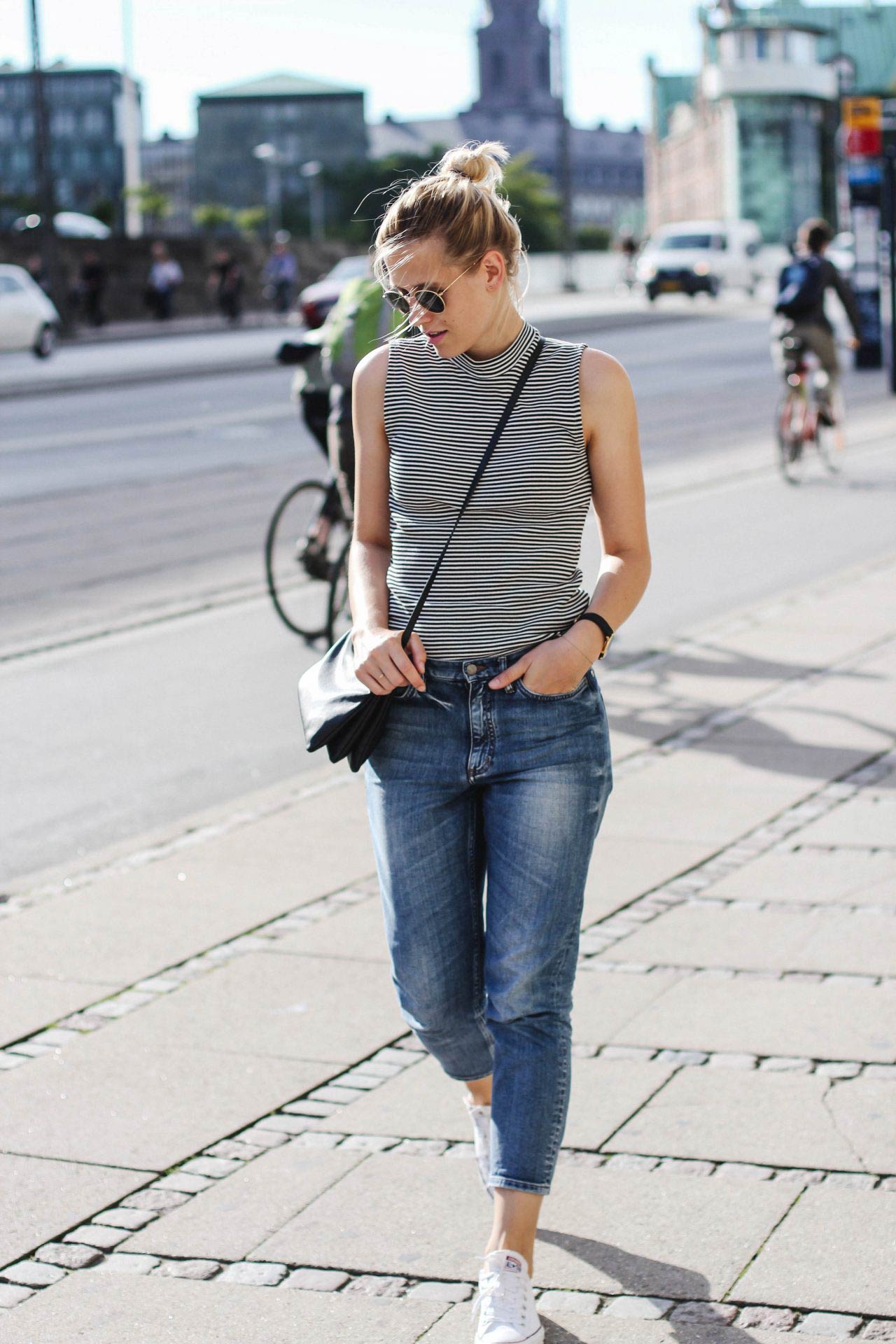 Top: Pieces | Sunnie&s: Ray Ban | Jeans: Cos | Sneakers: Converse | Watch: Larsson&Jennings | Bag: Céline | Lipstick: MAC Cosmetics (Snob)