Orange is the new black
Literally.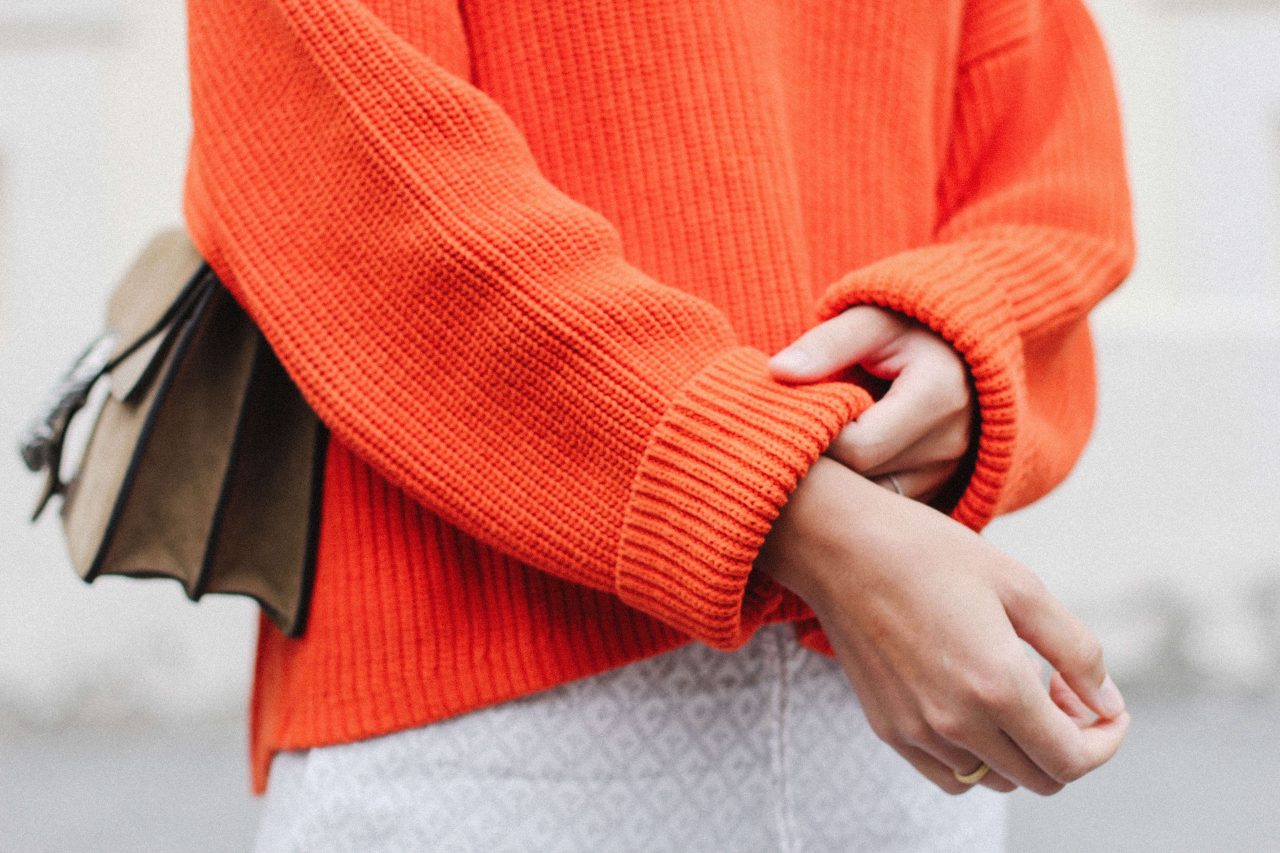 Der Titel dieses Posts ist zugleich auch sein Thema, denn ich muss zugeben: Momentan wundere ich mich ein wenig über mich selbst. Während es die letzten Jahre in meinem Kleiderschrank eher grau in grau, schwarz und weiß und höchstens ein bisschen hellblau und rosa zuging, greife ich in letzter Zeit immer häufiger zu farbenfroheren Teilen. Das hat zum einen bestimmt mit der Jahreszeit zu tun, zum anderen aber sicherlich auch damit, dass ich vor einigen Monaten ein bisschen gelangweilt von meinem Kleiderschrank war.
Versteht mich nicht falsch, ich liebe meine mühevoll angesammelten Stücke heiß und innig, aber wenn man die perfekte Jeans, den perfekten grauen Pullover und die perfekte Lederjacke schon (teilweise in mehrfacher Ausführung) im Schrank hat, darf es auch mal wieder etwas Neues sein. Ich fühle mich zwar nach wie vor am wohlsten in Jeans und weißem Shirt, aber momentan liebe ich es, ein bisschen zu experimentieren. Das heißt nicht, dass ich wild durcheinander kombiniere, sondern vielmehr, dass ich gerne Statement-Stücke trage, die nicht in erster Linie zum Rest meiner Garderobe passen müssen, sondern ruhig herausstechen dürfen.
Mit meinen wenigen monochromen Looks ging auch eine andere Veränderung einher. Ich habe mein jahrelang verfolgtes Motto "Weniger ist mehr" ein bisschen aus den Augen verloren und war in den letzten Wochen etwas kauffreudiger als sonst. Das hat ganz schön Spaß gemacht, aber ich merke auch, dass ich meine Neuzugänge jetzt einmal in Ruhe genießen möchte und vor allem tragen möchte,  bevor immer wieder Neues nachkommt. Aber vorerst freue ich mich über meine Errungenschaften und vor allem darauf, sie euch vorzustellen.
Und los geht's mit dieser Kombo aus orangem Strickpullover und weiter Hose. Ein absoluter Wohlfühllook, den ich in meiner Urlaubswoche in Salzburg getragen habe. Bis auf die Tasche ist der komplette Look von H&M, wo ich aber auch immer fündig werde. Ich nehme mir zwar wieder und wieder vor, weniger bei H&M, Zara und Co. einzukaufen und lieber auf kleinere Shops und Marken zu setzen, aber so ist es nun mal am einfachsten – gerade in einer kleinen Stadt wie Salzburg. Dazu trage ich meine große Dionysus, die auf Second-Hand-Wegen zu mir gefunden hat und die momentan meine liebste Begleiterin ist.

ENG:
The title of this post also it's subject, because I have to admit: I'm wondering a little about myself. While I tended to prefer grey in grey, black and white and pastel colours, I am more and more into colorful pieces at the moment. This surely has to do with the season, but also with the fact that I was a bit bored of my wardrobe a few months ago.
Don't get me wrong, I love my basic pieces, but if you have the perfect jeans, the perfect grey sweater and the perfect leather jacket (partly in multiple versions) in the closet, it may be time for something new again. I still feel most comfortable in jeans and a white shirt, but right now I love the mix. This does not mean that I combine extravagant pieces with each other, but rather that my looks consist more of statement pieces, which must not primarily fit to the rest of my wardrobe.
With my fewer monochrome looks another change went along. I have lost my long-held motto "Less is more" a bit out of  sight and went more shopping in the last few weeks than I normally do. It was a lot of fun, but I want to enjoy my new additions first before others follow. However I am happy about my new pieces and above all, to show them to you.
Let's start with this combo made of my orange knit sweater and wide leg pants. I wore this look on my last days of holiday, which I spent in Salzburg, and felt so comfortable in it. The complete look is from H&M, except the bag. I always try to shop less with H&M, Zara and Co. and to prefer smaller shops and brands, but it's often the easiest way and so I often end up buying there – even more in a small city like Salzburg. I combined it to my large Dionysus, which I found second-hand and which is my current favorite.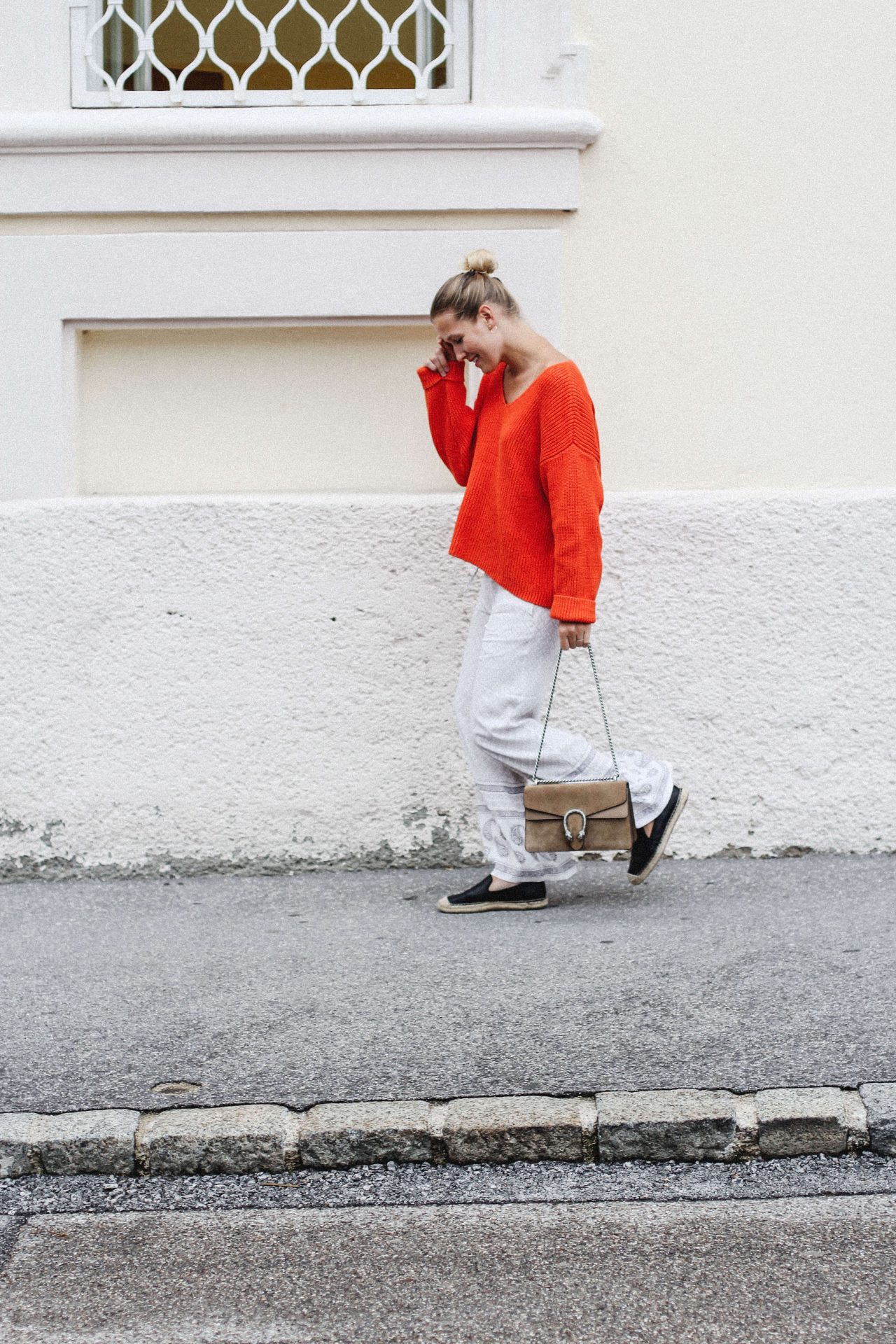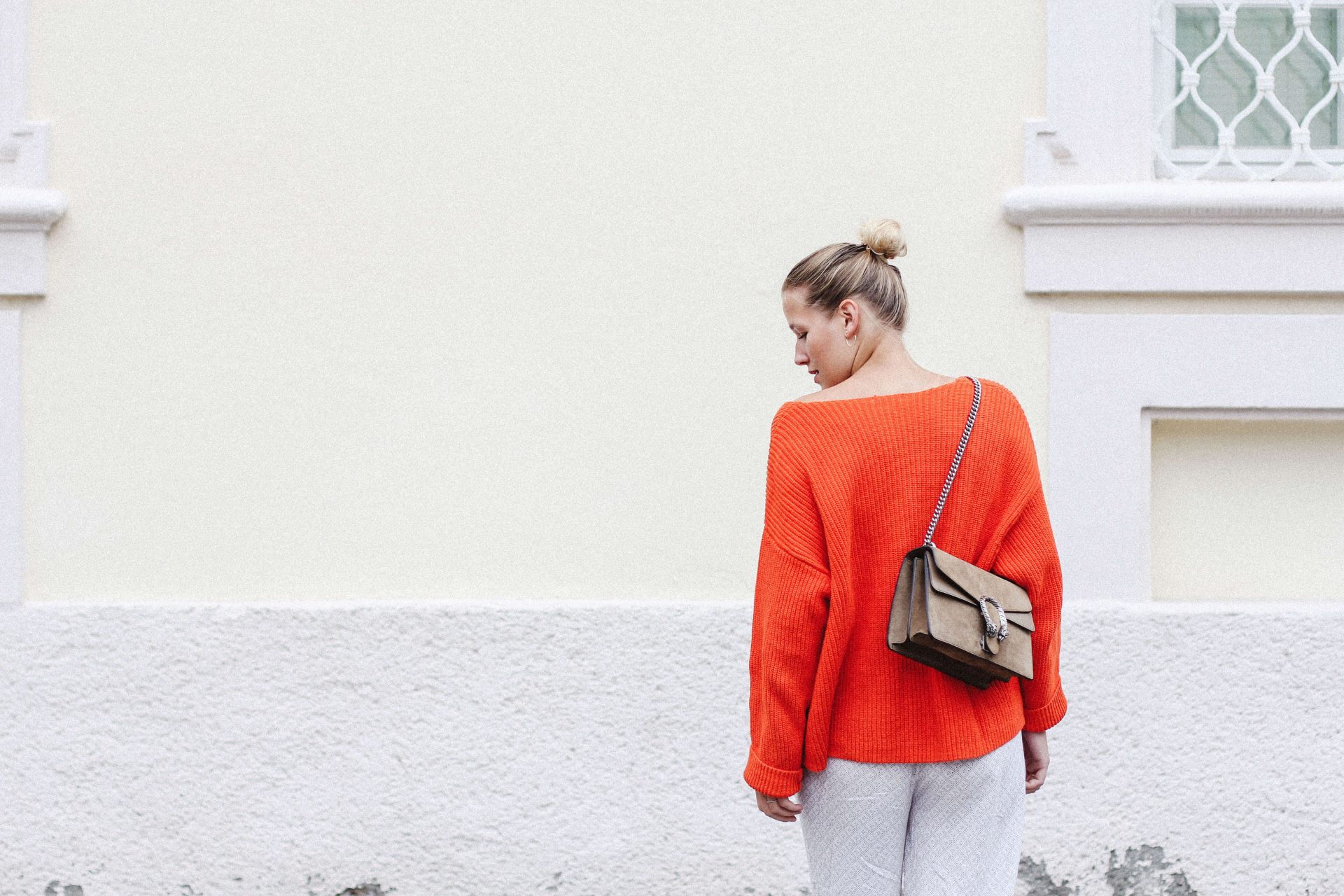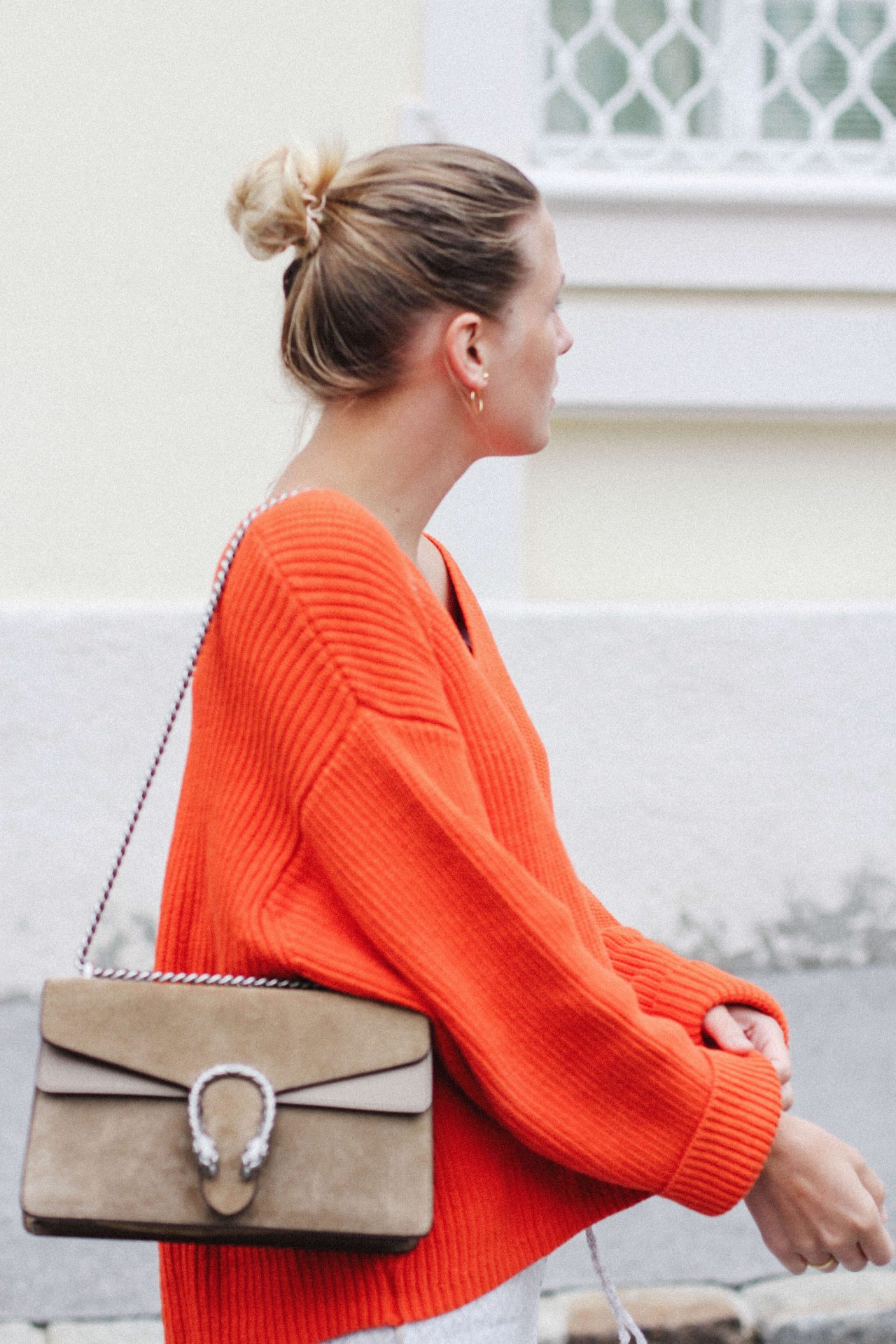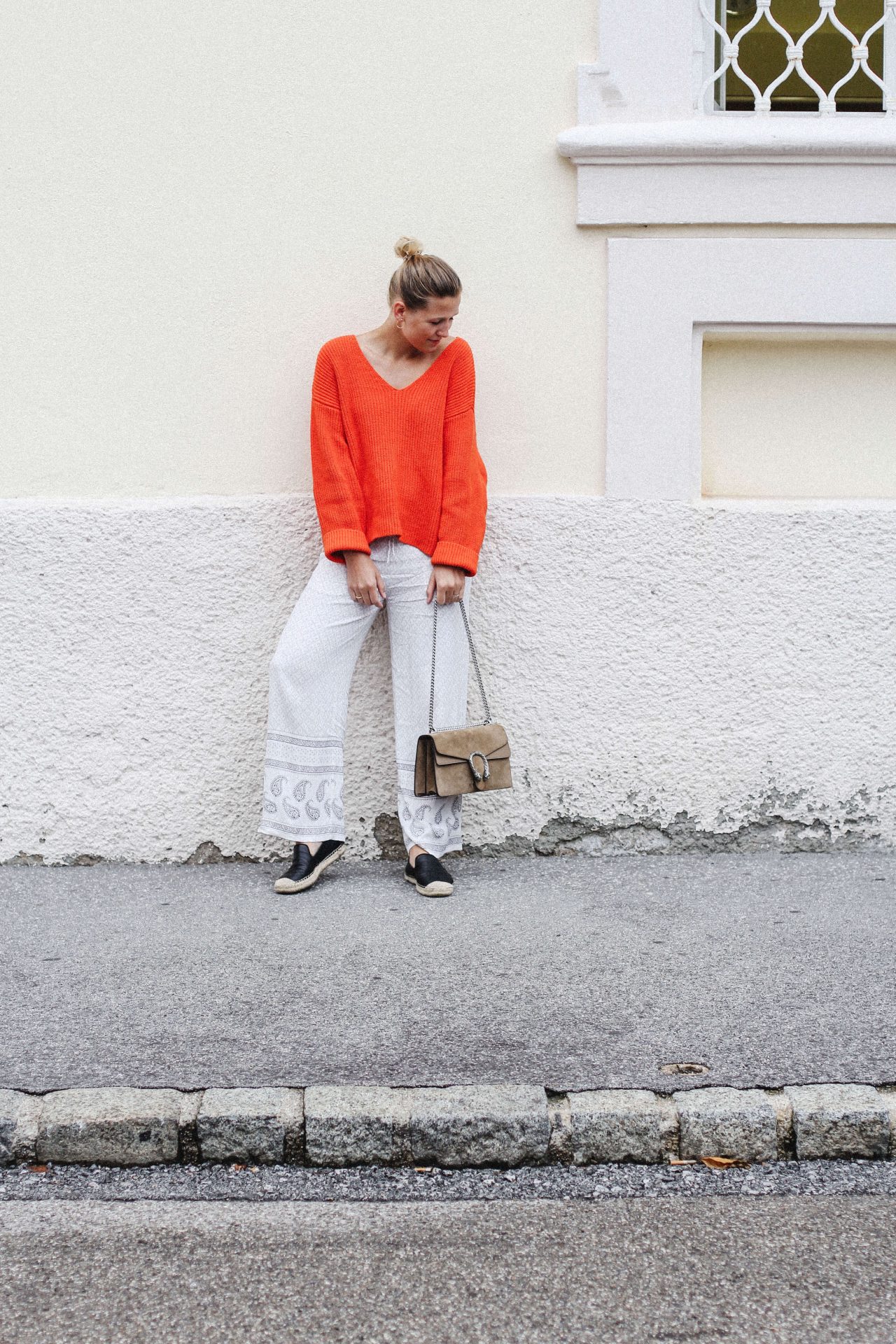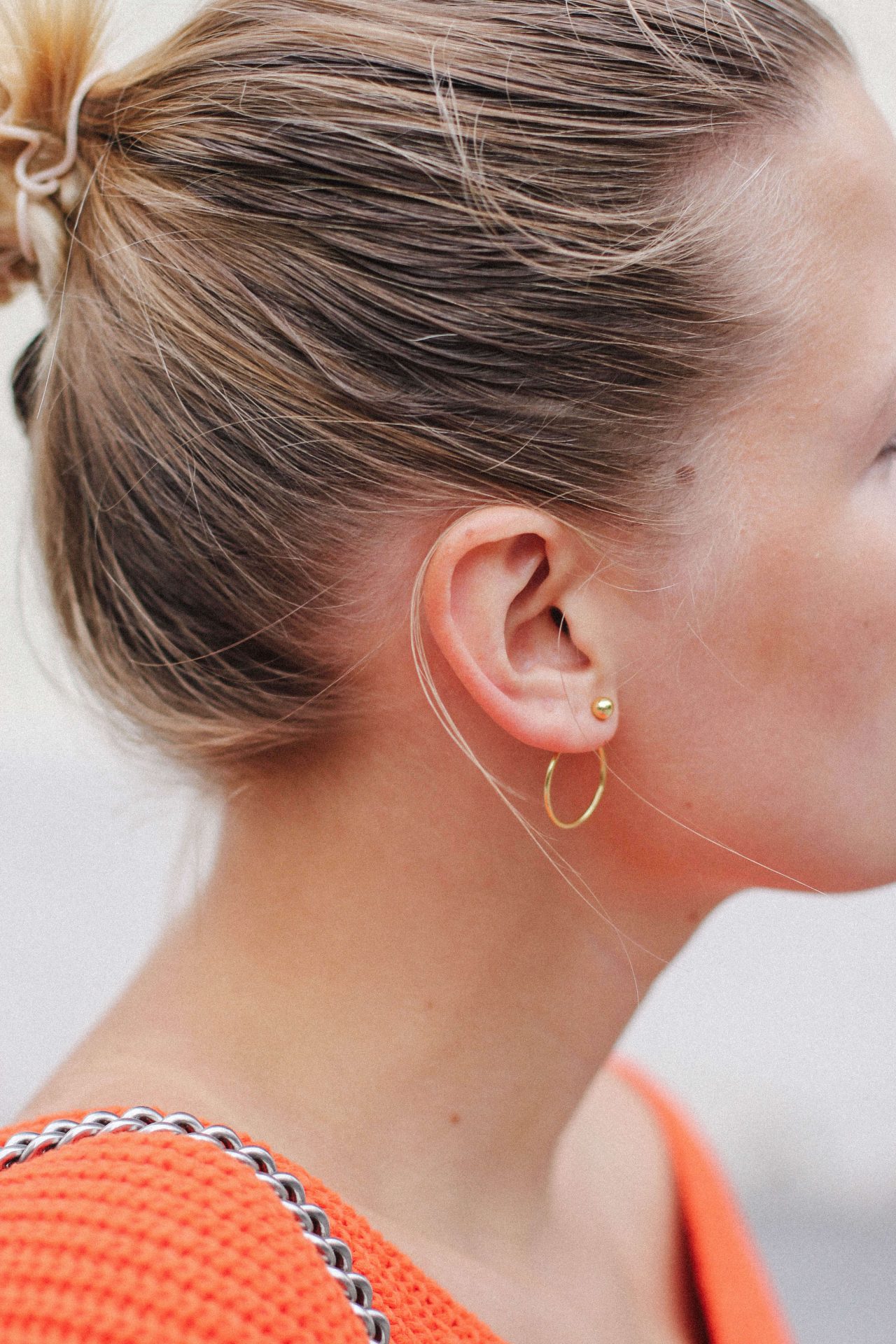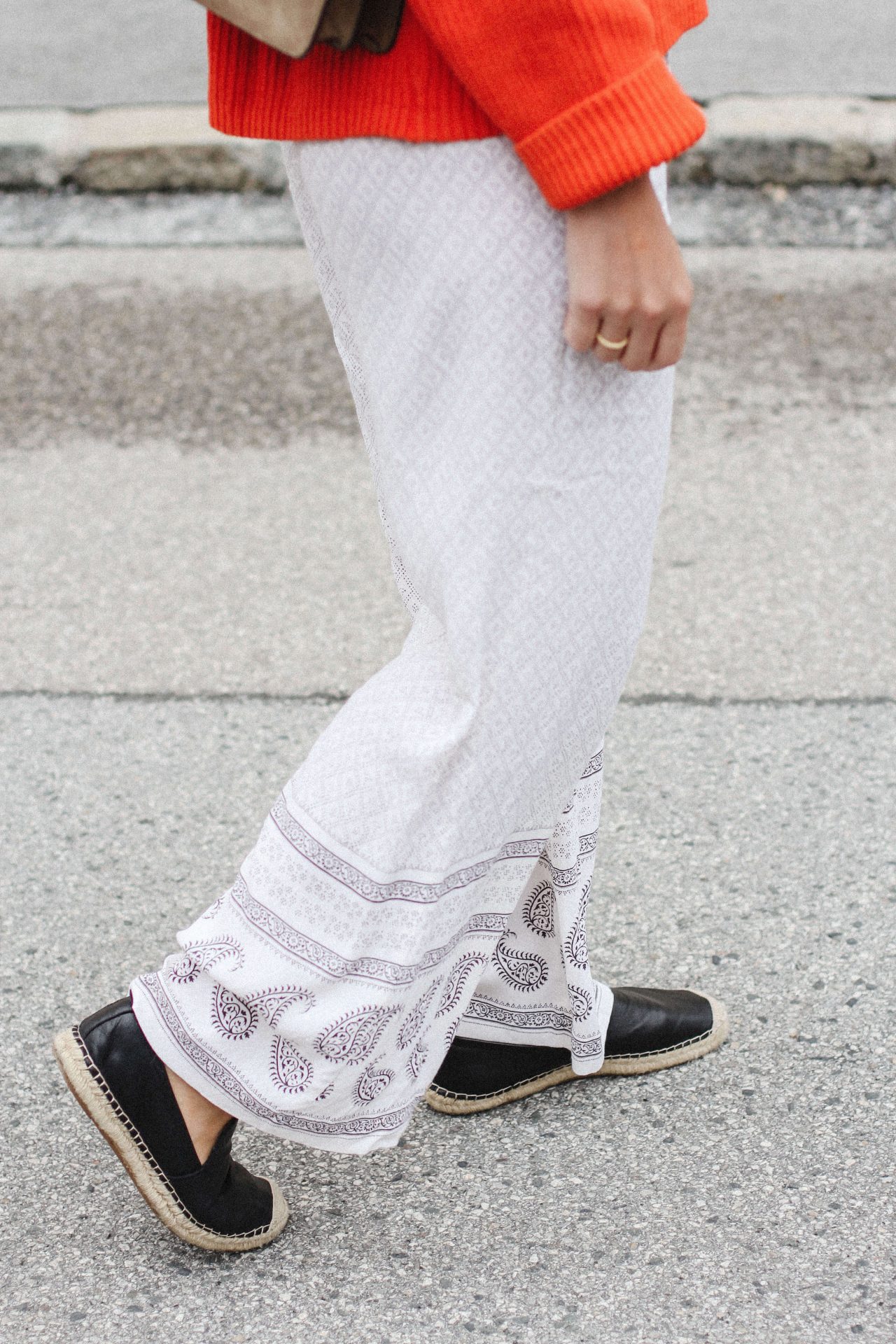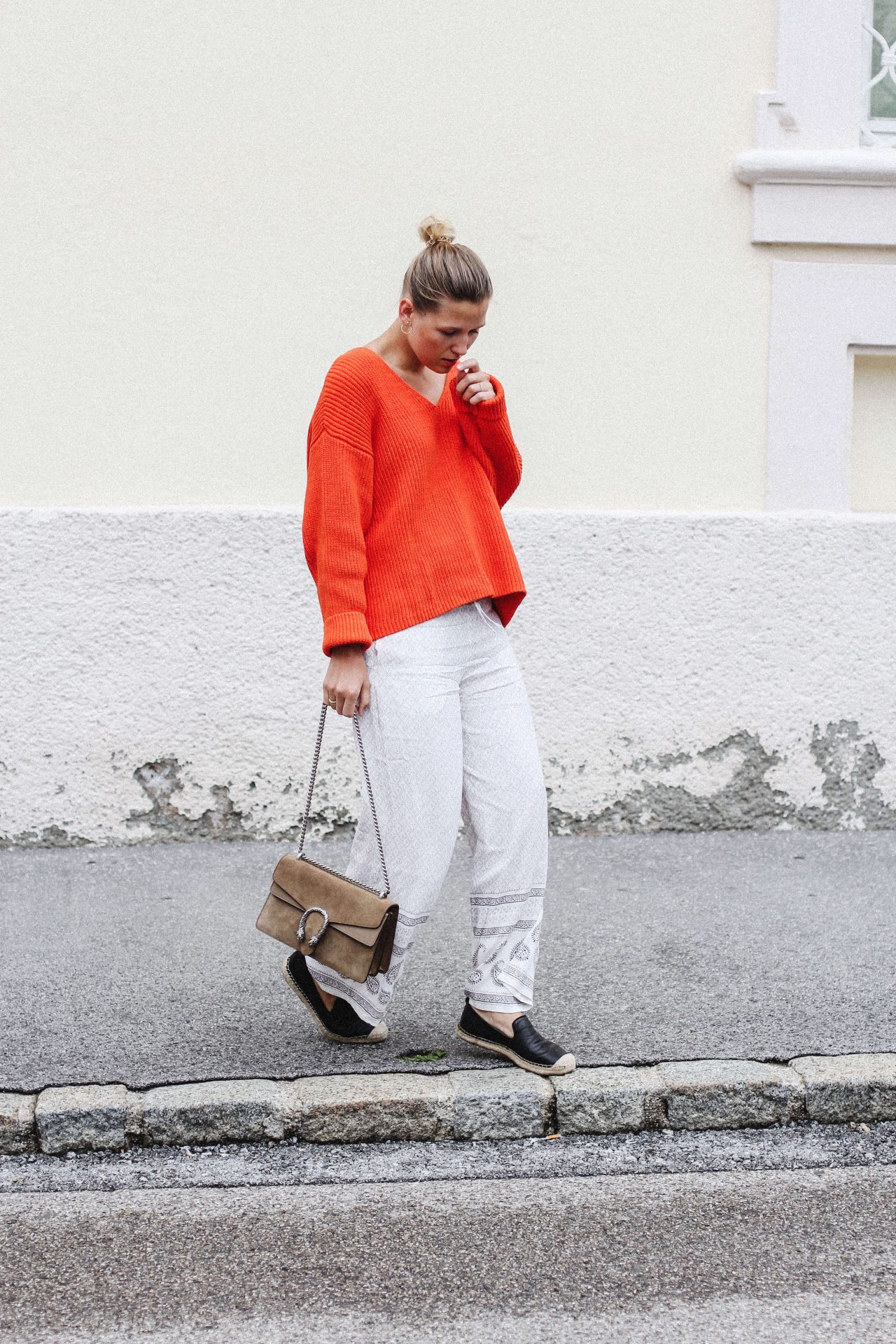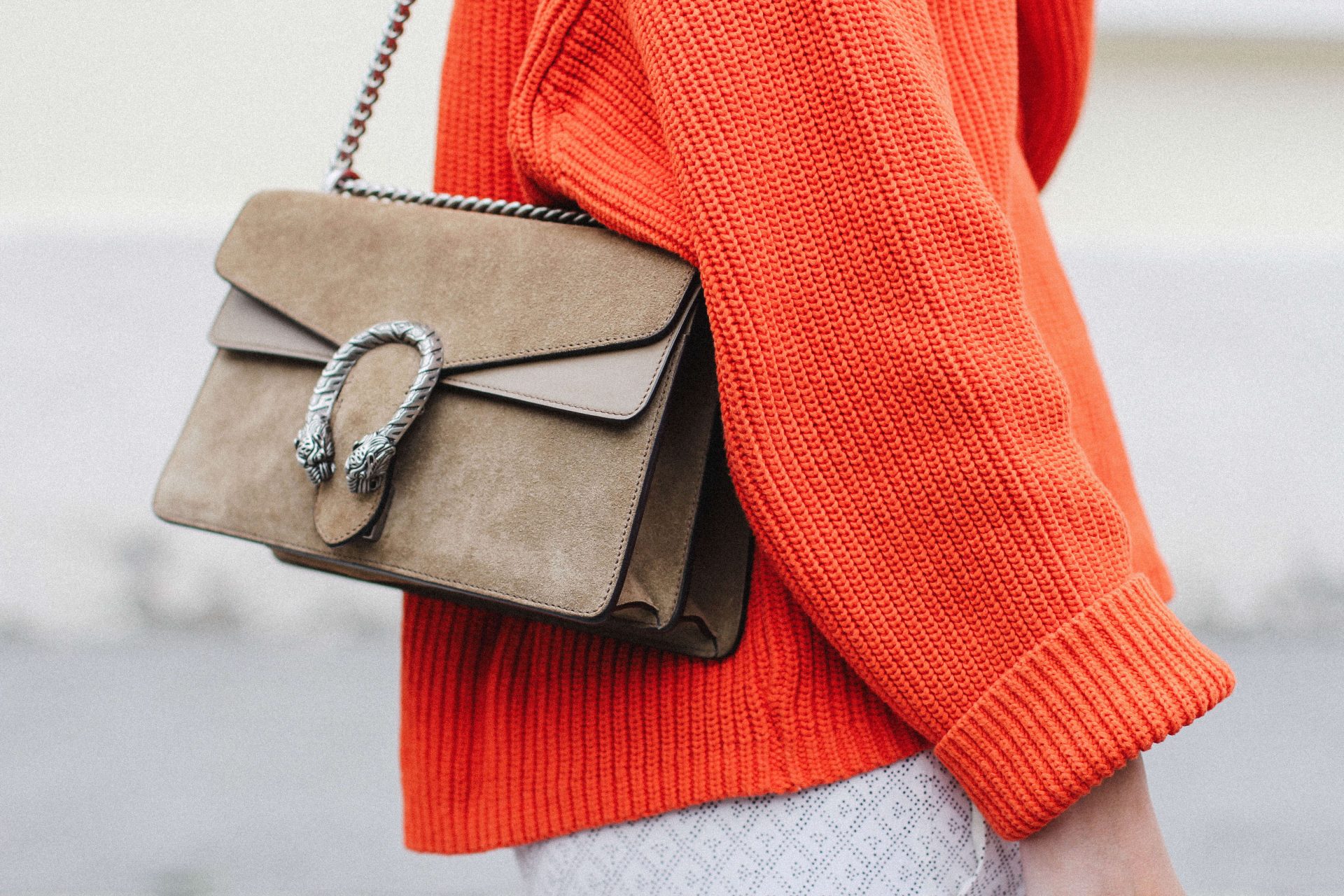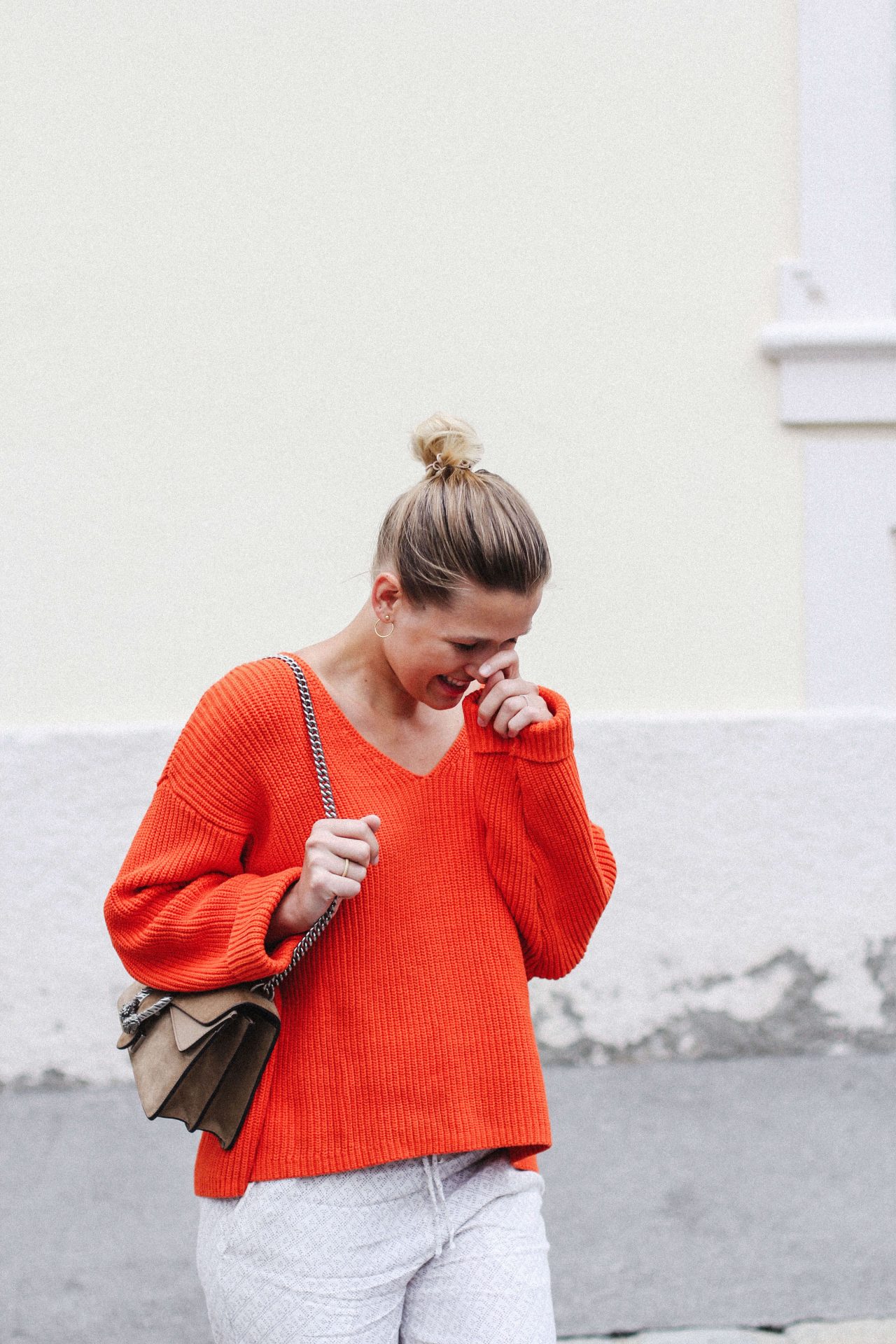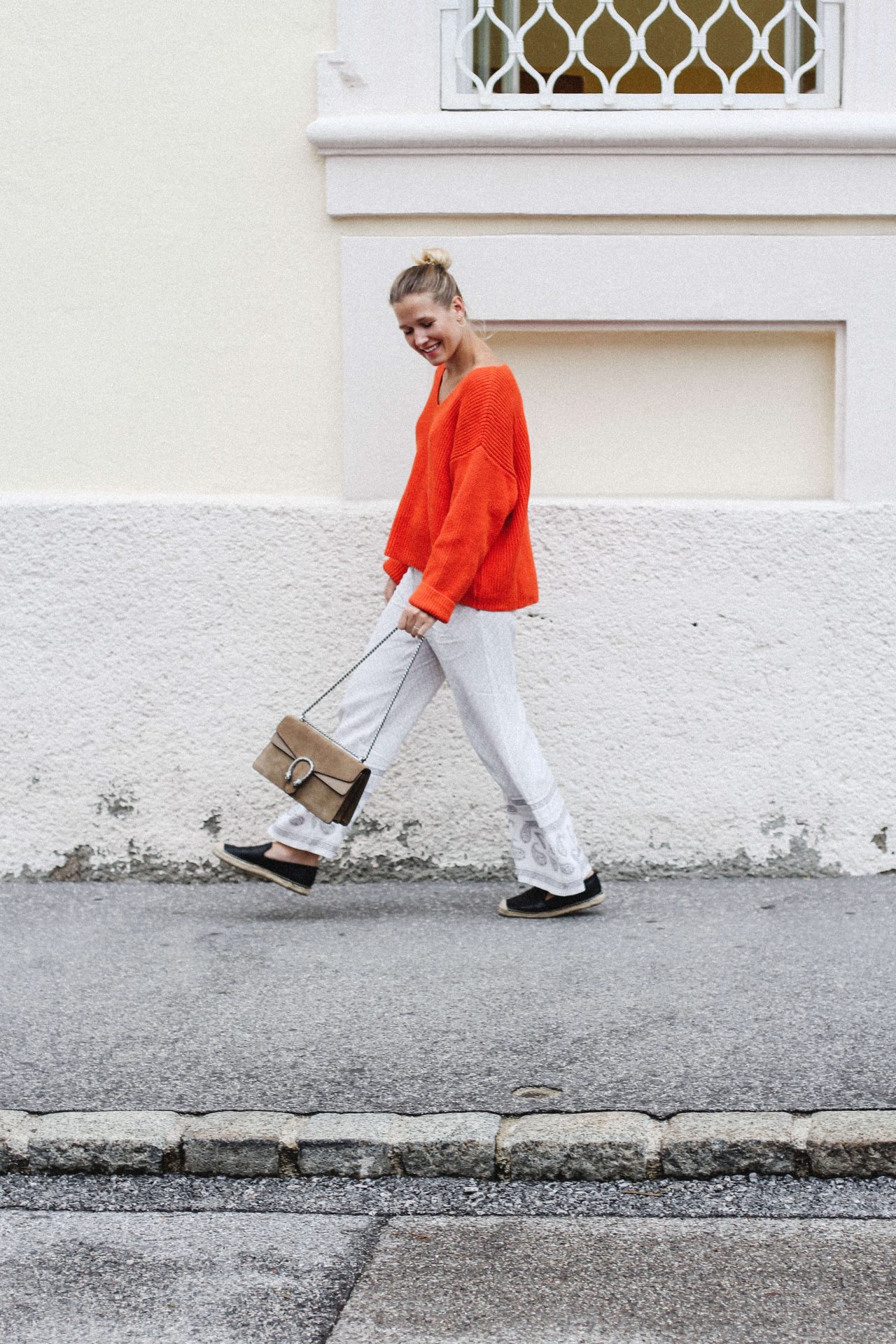 Sweater, pants and espadrilles: H&M | Bag: Gucci Dionysus | Earrings: Jukserei*
(*Sponsored)