Denim on denim
My personal style guide.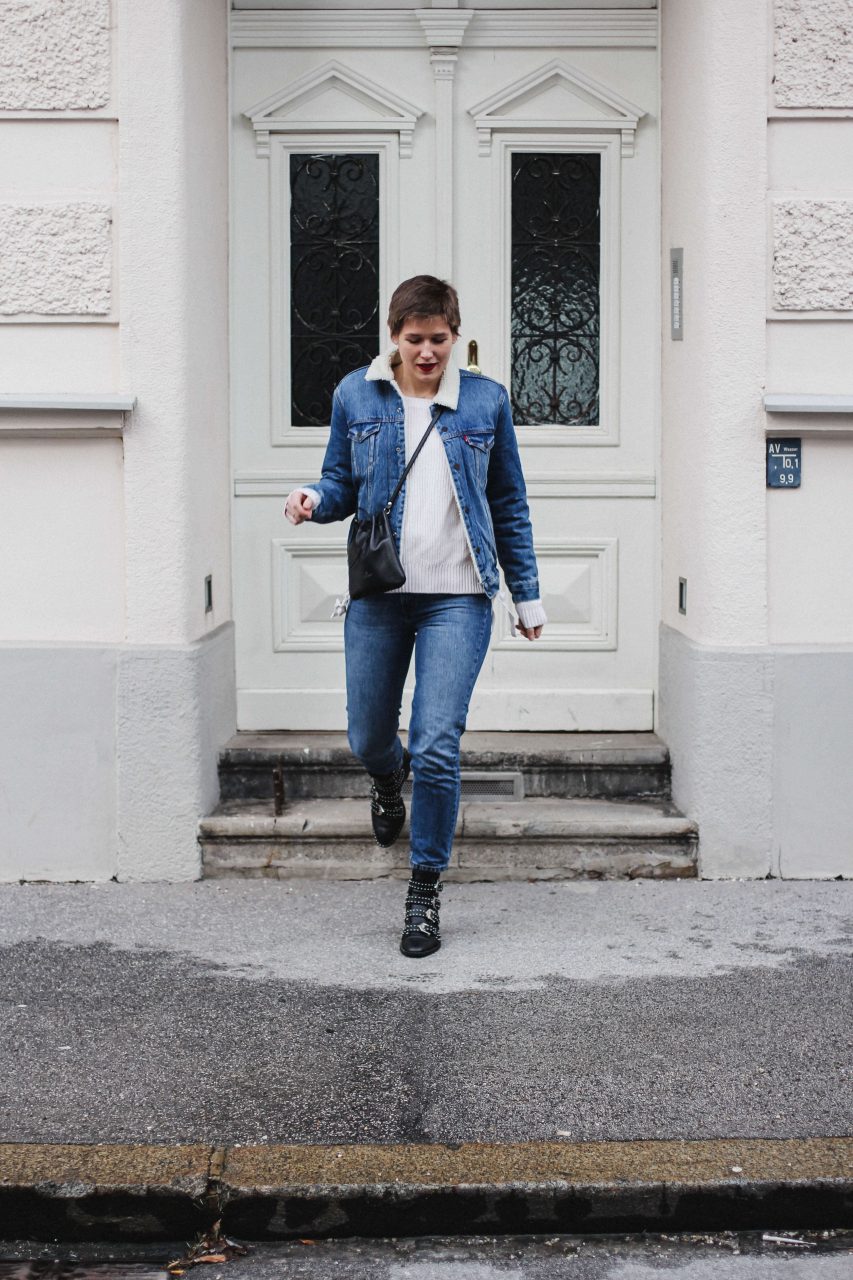 When I wake up

In the morning light

I pull on my jeans

And I feel all right.

(David Dundas)
Es ist schon lange kein Geheimnis mehr, dass ich ein absoluter Fan von Jeans bin. Ich denke 90 Prozent meiner Outfits enthalten mindestens eine Denim-Komponente und ich habe dabei ganz bestimmte Vorlieben, die ich euch in dem Beitrag "Denim Love" schon einmal aufgelistet habe. Geht es aber darum, Jeans und Jeans zu kombinieren wird die Sache in meinen Augen schon schwieriger. Ich mag den All-over-Jeans-Look unglaublich gerne, aber ich finde, man kann dabei auch unglaublich viel falsch machen. Von daher stelle ich euch heute meine drei persönlichen Regeln vor, wenn Jeans auf Jeans treffen.
Denim on denim ist Statement genug.
Wenn ich Jeans auf Jeans trage, brauche ich keine zusätzlichen Ausreißer mehr. Klar, Streifen oder Karos gehen immer, aber das war's dann in meinen Augen auch schon. Umso minimalistischer der restliche Look umso harmonischer wirkt er auch.
Gleich und gleich gesellt sich gern.
Mir gefällt es am besten, wenn zwei Jeansarten aufeinander treffen, die sich ähneln. Darunter verstehe ich sowohl Waschung als auch Farbe. Es sieht zwar auch schön aus, wenn ein Teil ein bisschen heller ist, aber umso ähnlicher sich die Töne sind, umso besser.
Diese alte Grundregel gilt natürlich auch beim Allover-Jeans-Look. Leder-Boots, Tasche oder eine Jacke (über dem Jeanshemd) runden diesen perfekt ab und geben ihm die letzte Vintage-Note.
PS: Roter Lippenstift geht natürlich immer. So oder so.
Das sind selbstverständlich nur meine persönlichen Ratschläge. Wer es generell ausgefallener oder provokanter mag, kann sie gut und gerne in den Wind schießen.

ENG:
It's no secret that I am a big fan of jeans. I think 90 percent of my outfits contain at least one denim component and I have certain preferences that I have listed before in the article "Denim Love". But when it comes to combining jeans and jeans, things are getting harder in my eyes. I love the all-over jeans look, but I think you can go wrong easily. So today I'm introducing you to my three personal rules when jeans meet jeans.
Denim on denim is statement enough.
When I wear jeans on jeans, I do not need any additional statement. Sure, stripes or checks are ok anyways, but that's it. The more minimalistic the rest of the look is, the better.
Birds of a feather stick together.
I like it best when two types of jeans that are similar to each other come together. Regarding style and colour. It also looks nice when one piece is a bit lighter, but the more similar they are, the better.
Of course, this old rule also works with the allover jeans look. Leather boots, bag or jacket (over a denim shirt) complete it perfectly and give it a last vintage touch.
PS: Of course, red lipstick always works. Either way.
No worries, that's just my personal advice. If you like it more fancy or provocative, just ignore them.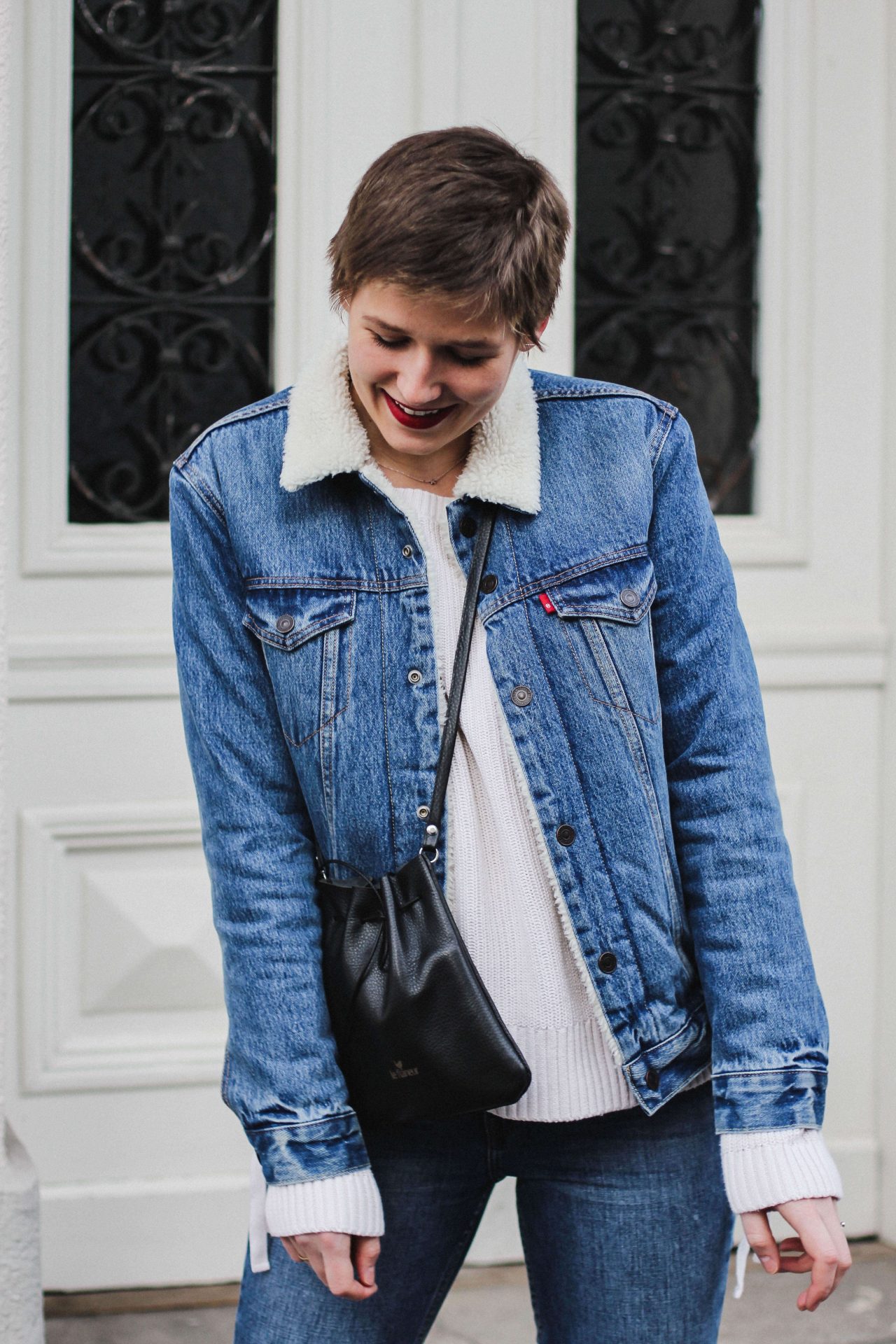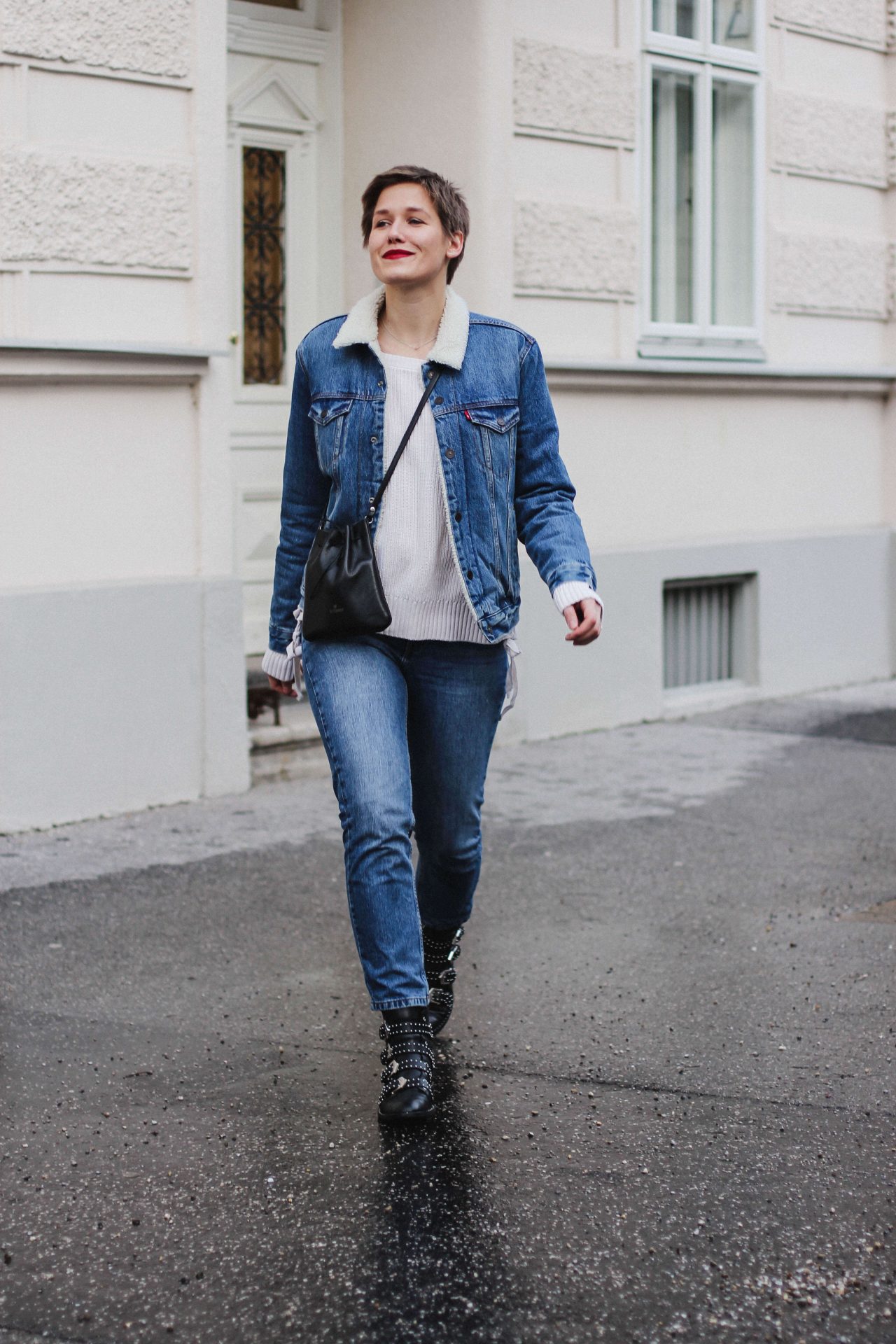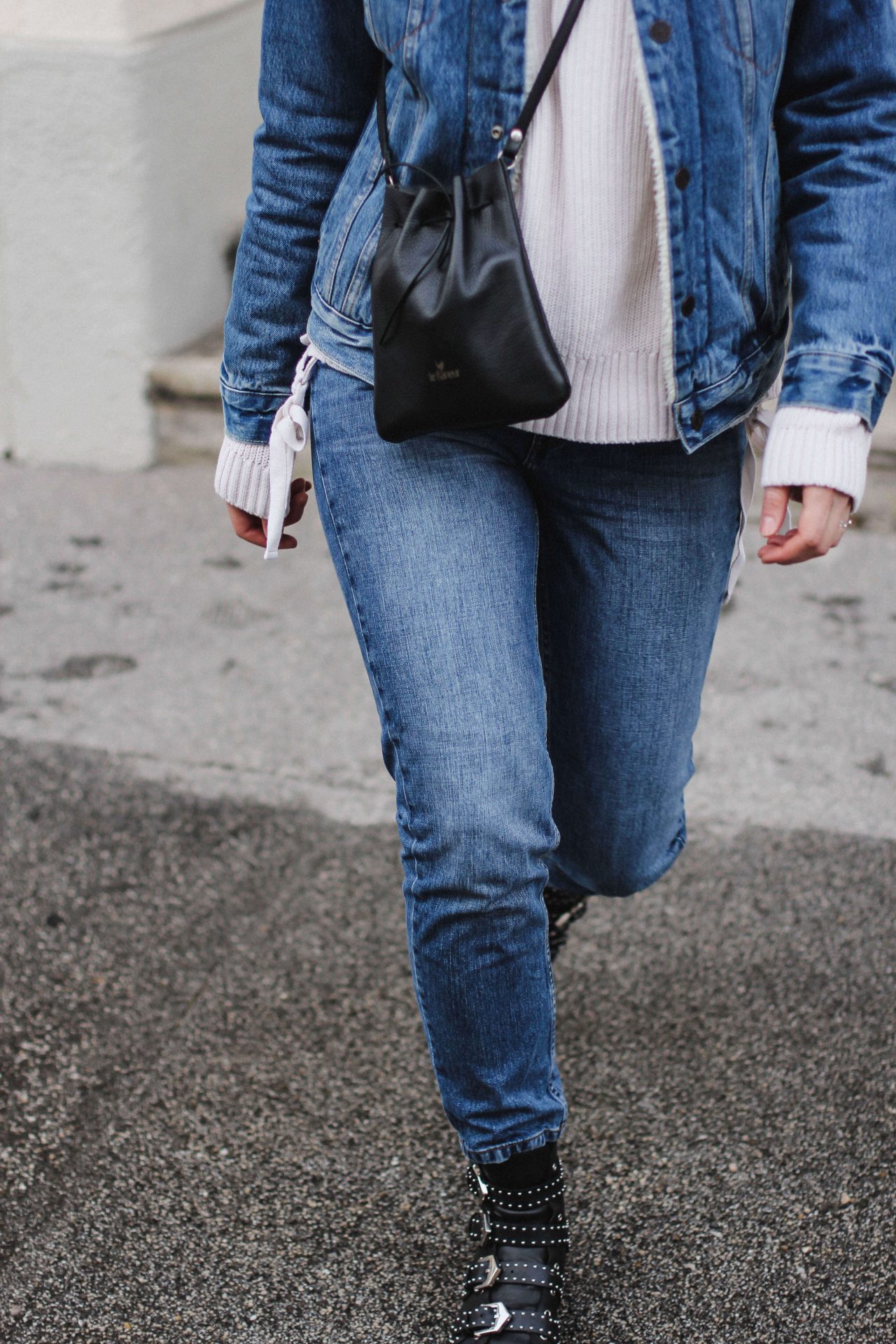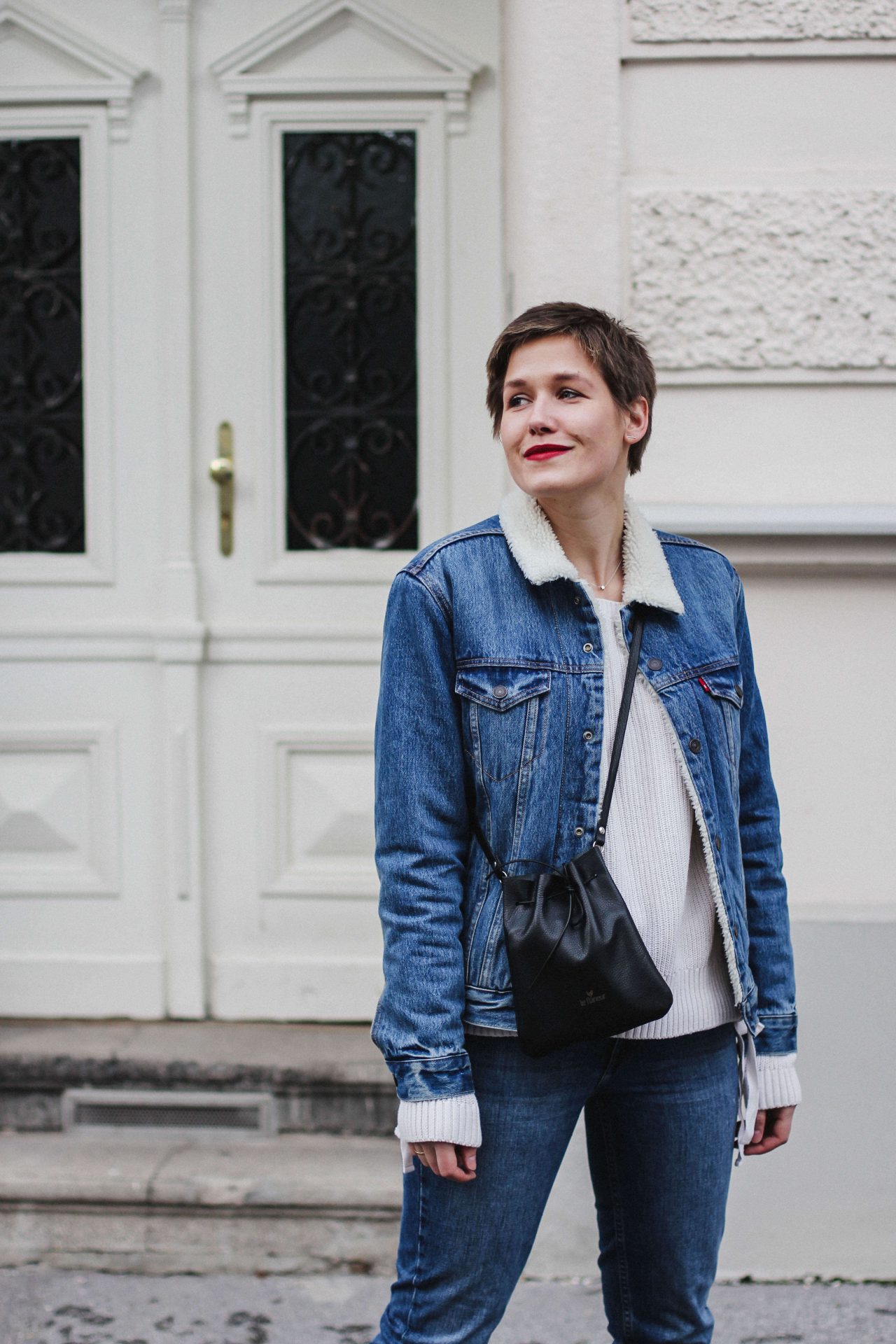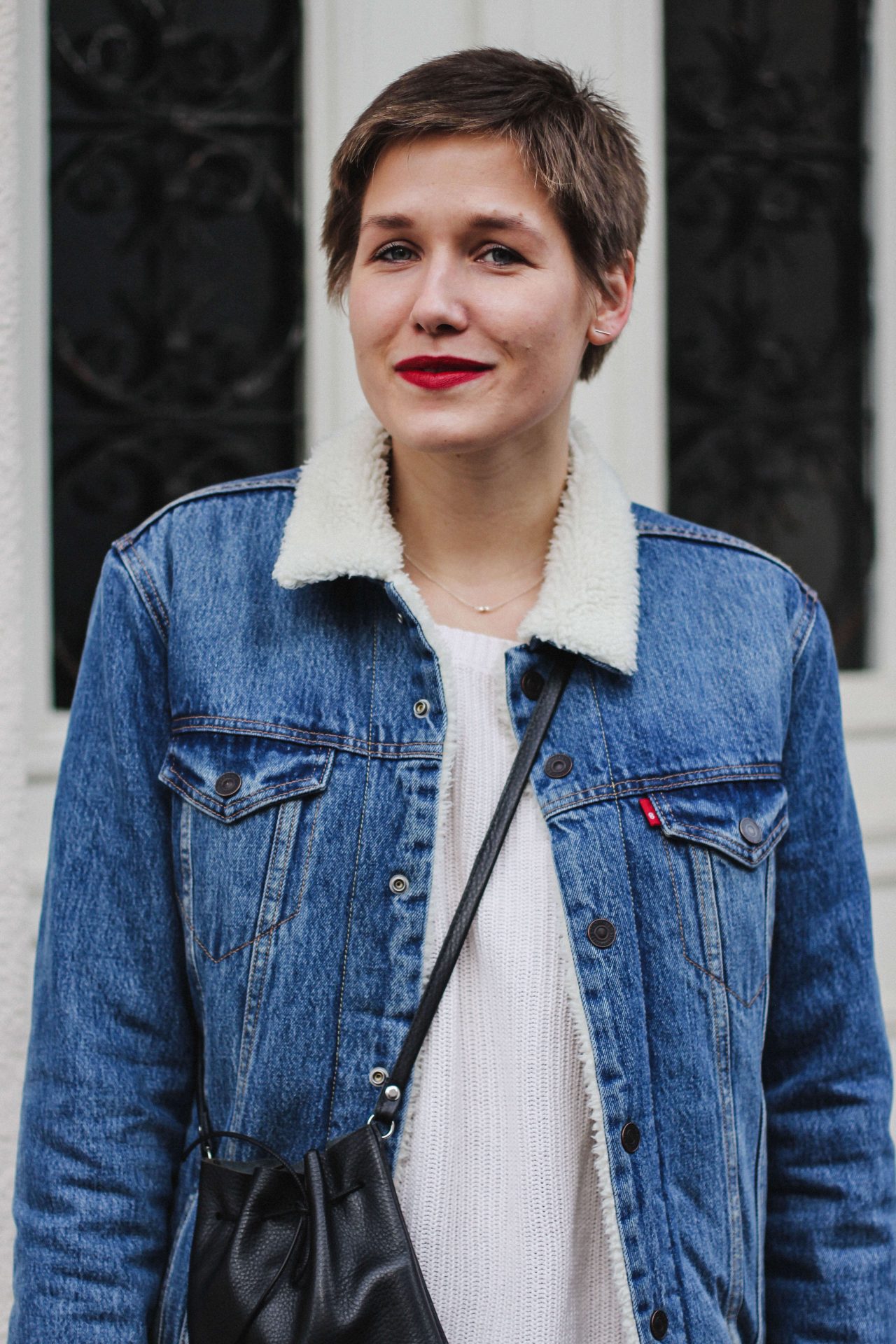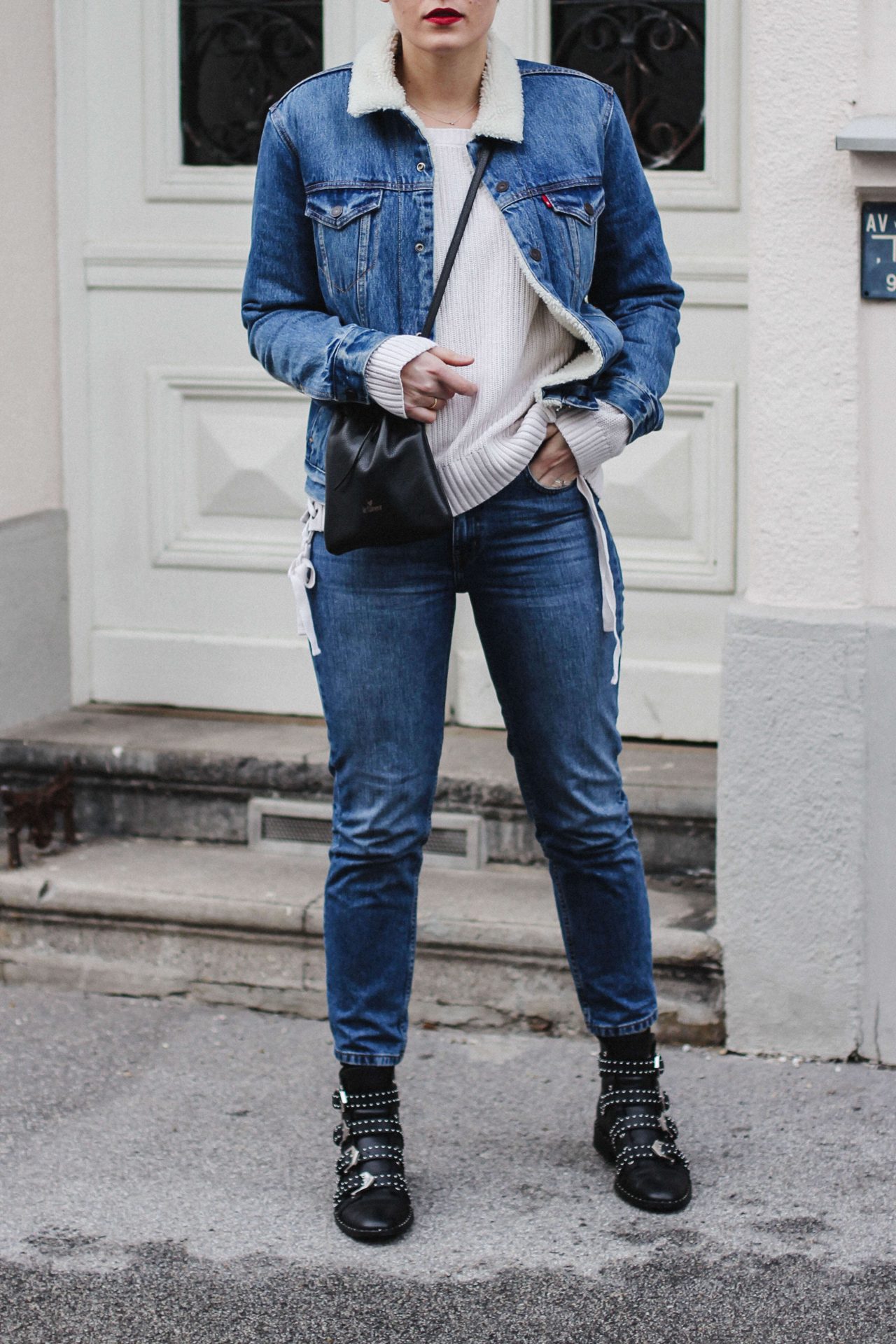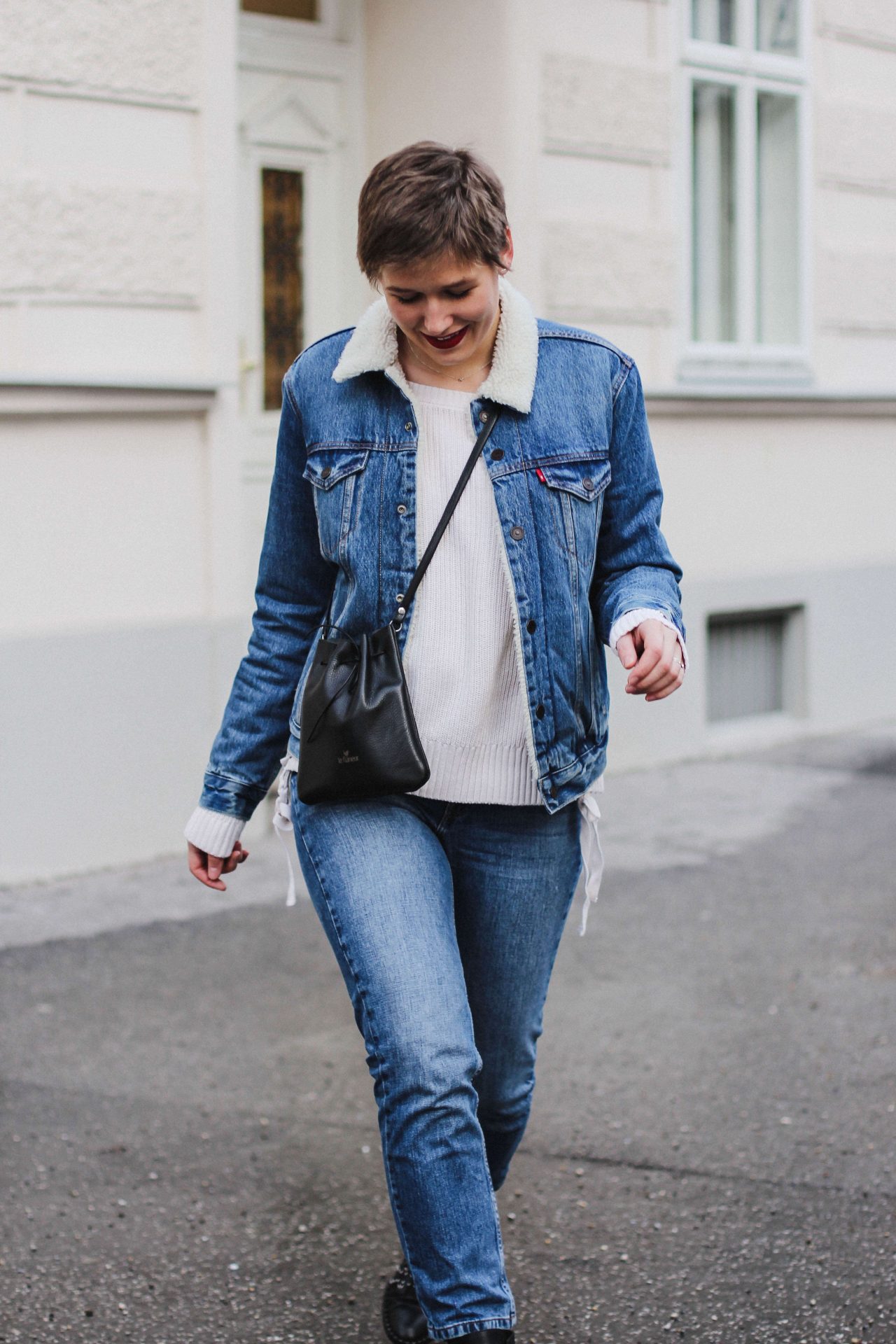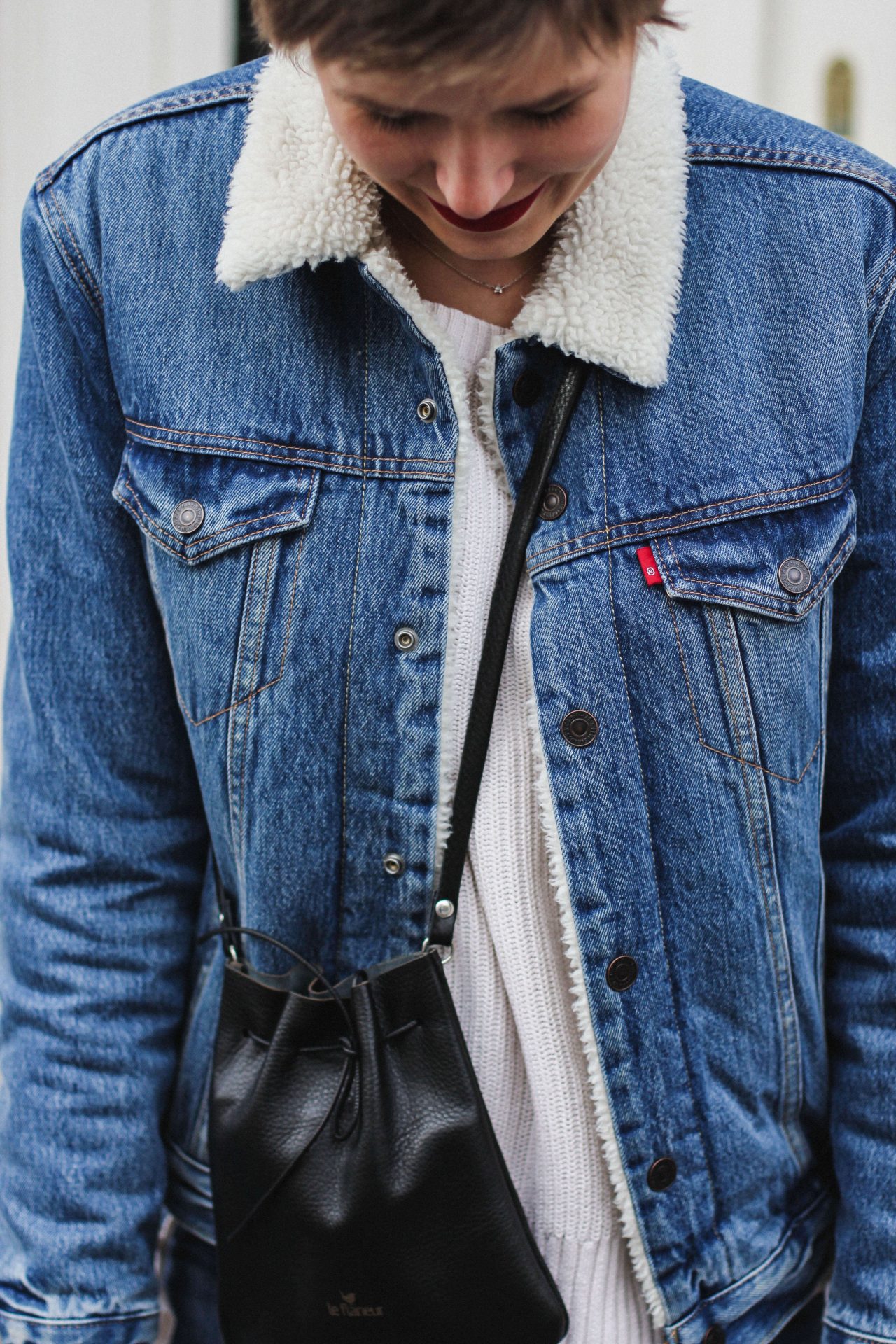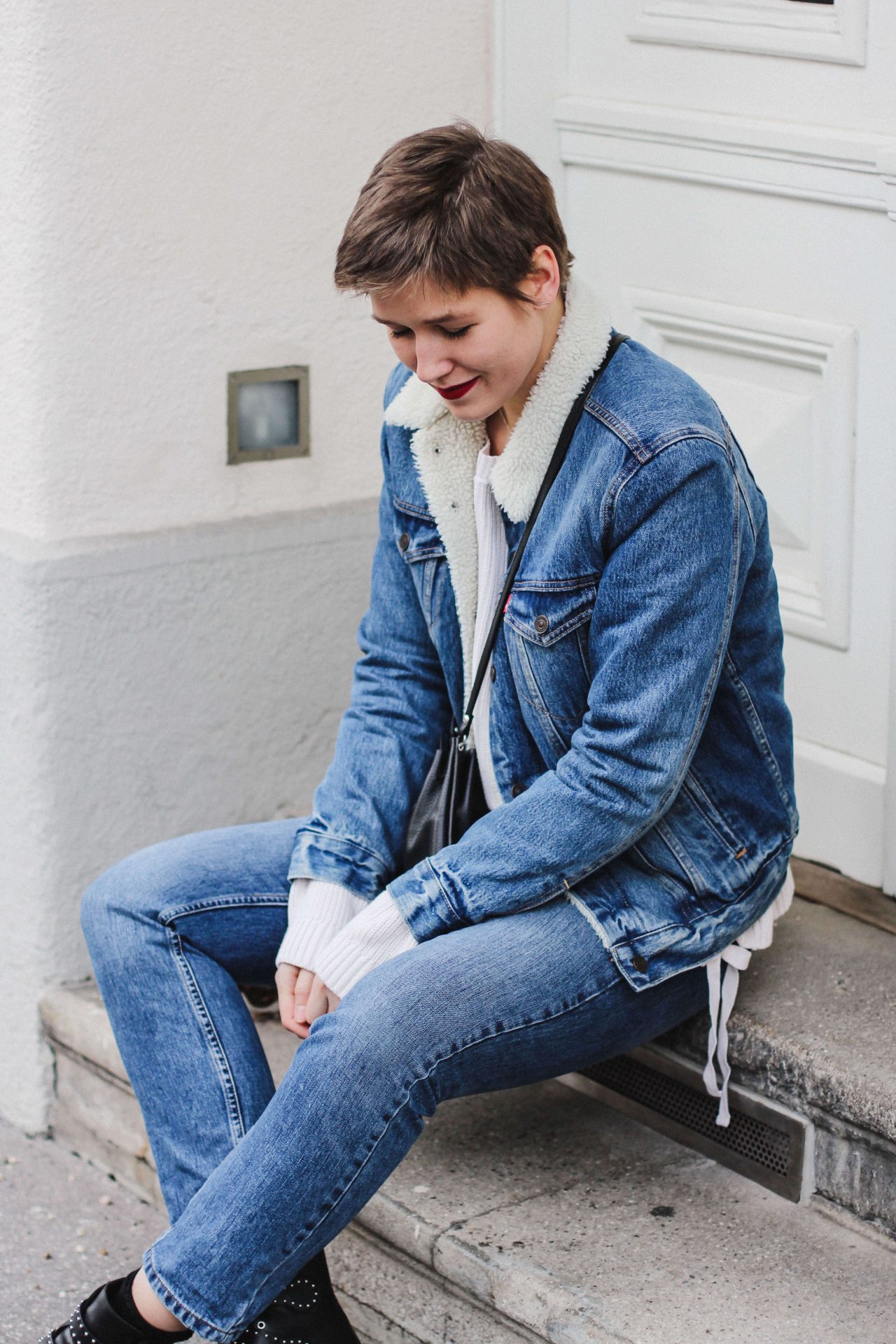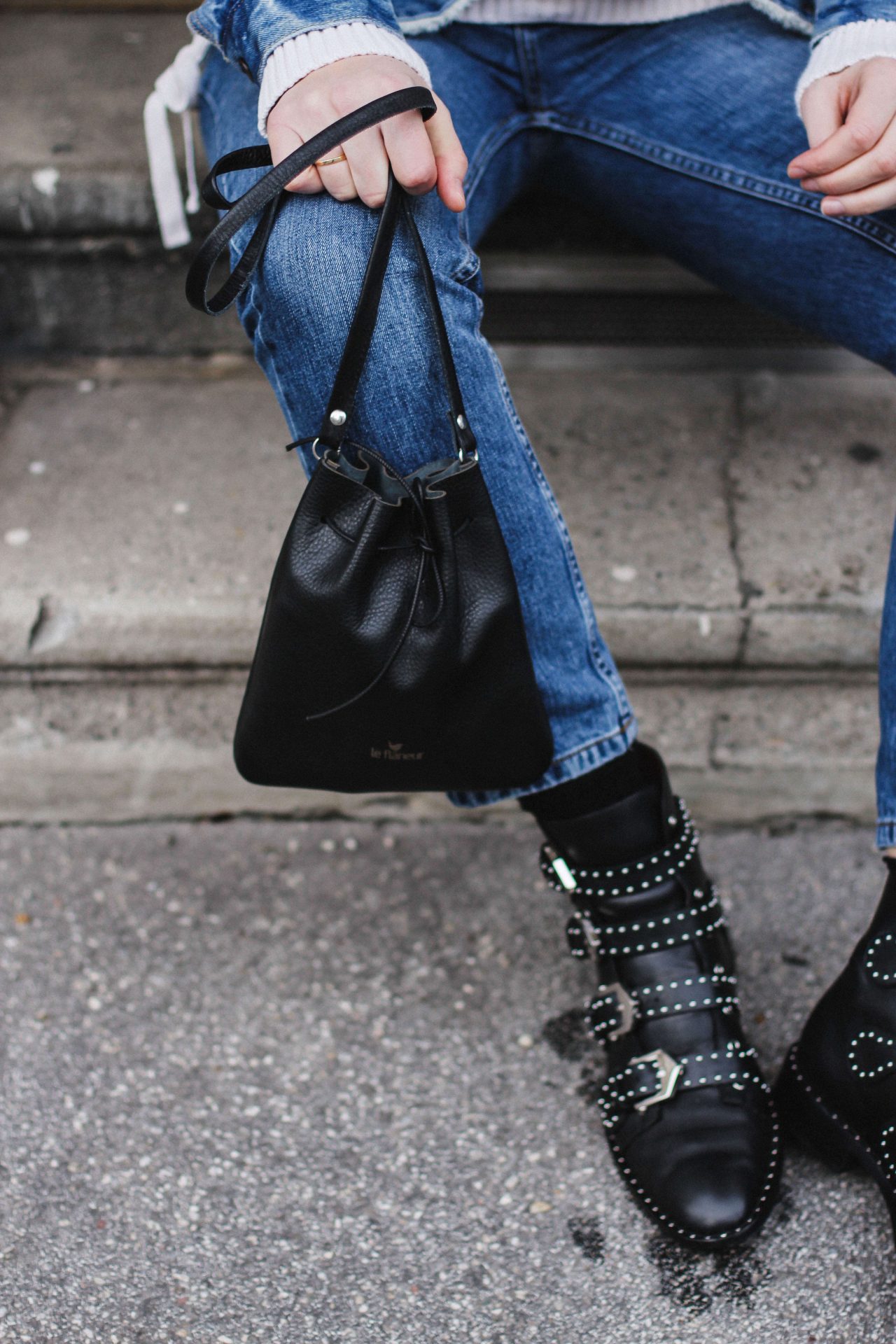 Denim jacket: Levi's | Sweater: H&M | Jeans: Envii | Boots: Givenchy Prue | Bag: le flâneur*
*Sponsored