Checked pattern
7 ways to wear.
Neue Runde, neues Glück!
Die Ohrringe habe ich euch ja schon im letzten "7 ways to wear"-Beitrag vorgestellt und heute steht das schwarz-weiße Kleid im Mittelpunkt. Ich wollte es eigentlich schon seit einigen Monaten in einen Outfitpost integrieren, aber es hat sich bisher einfach nicht ergeben. Umso gelegener kam mir das Motto unserer monatlichen Reihe, das da Karomuster lautet. Während ich im Sommer nämlich recht häufig zu gemusterten Stücken greife, halte ich mich damit im Winter unbewusst eher zurück. Es sei denn es handelt sich um Karos oder Streifen. Denn während Streifen einfach immer gehen, sind Karos für mich schon ziemlich mit der kalten Jahreszeit verbunden. Und wenn ich schon von Mustern spreche: Ich konnte es mir nicht verkneifen, ein zweites Muster mit in diesen Look einzubauen und ich muss sagen, dass ich das Ergebnis überraschend gerne mag. Sternchen und Karos harmonieren in meinen Augen wunderbar miteinander und geben dem Ganzen spannenden Touch. Was außerdem neu ist? Nichts eigentlich, außer meine Haarfarbe, die zwischen blond und rosa hin und her wechselt.
Weil ich eingangs von Glück gesprochen habe … Ich hatte heute wirklich Glück im Unglück, denn ich habe mir morgens eine größere Menge Kaffee inklusive Kaffeesatz über den Oberschenkel geleert und mich dabei ziemlich verbrüht. Da ich aber wirklich schnell reagiert habe und sofort alles fallen ließ, mich aus meinem Pyjama schälte und den Oberschenkel 15 Minuten unter lauwarmes Wasser hielt, hält sich die Katastrophe in Grenzen. Ich bin zwar knallrot, habe zwei kleinere Blasen und es hat den ganzen Tag wie verrückt gebrannt, aber meine Haut schält sich kaum. Obwohl ich mir selbst wirklich einen Schrecken eingejagt habe (und außerdem das absolute Chaos veranstaltet habe), könnte es schlimmer sein und ich habe beschlossen, einfach dankbar zu sein, dass nicht mehr passiert ist. In diesem Sinne, passt gut auf euch auf!
ALL THE LOOKS
Monday: Michaela, Elastyle _ Tuesday: Viktoria, My Mirror World
Wednesday: Anna, Tifmys _ Thursday: Katii, Süchtig Nach 
Friday: Sarah-Allegra, Fashion Equals Science _ Saturday: Lina, Glittery Peonies Sunday: Camilla, Blond Hair Pink Heart
7Ways2Wear
I have already introduced you to these earrings in the last "7 Ways to wear" post and today it's the black and white dress that's in the focus of interest. I actually wanted to show it to you a few months ago, but I just forgot about it. That's why the motto of our monthly series came just in time, since it's all about checked patterns. While I like to wear patterned pieces in summer, I tend to keep things more simple in winter. Unless the pieces include checks or stripes. Well, stripes are always a good idea and checked patterns are just associated with the cold season, aren't they? And since I already speak of patterns: I could not resist adding a second pattern to this look and I have to say that I quite like the result. Stars and checks go wonderfully and give each other an even more exciting touch. What to say more? Nothing, except some words about my hair color, which is somewhere between blond and pink.
Because I spoke of luck at the beginning … Today I was quite lucky as I emptied a large amount of coffee on my thigh in the morning and scalded me pretty much. Since I reacted quickly and immediately dropped everything, peeled me out of my pajamas and held my thigh under lukewarm water for 15 minutes, the catastrophe is kept within limits. I am bright red, have two smaller bubbles and it burned like crazy all day, my skin hardly peels. Although I really scared myself (and caused a lot of chaos), it could be worse, and I decided to be thankful that nothing more had happened. In that sense, take good care of yourself!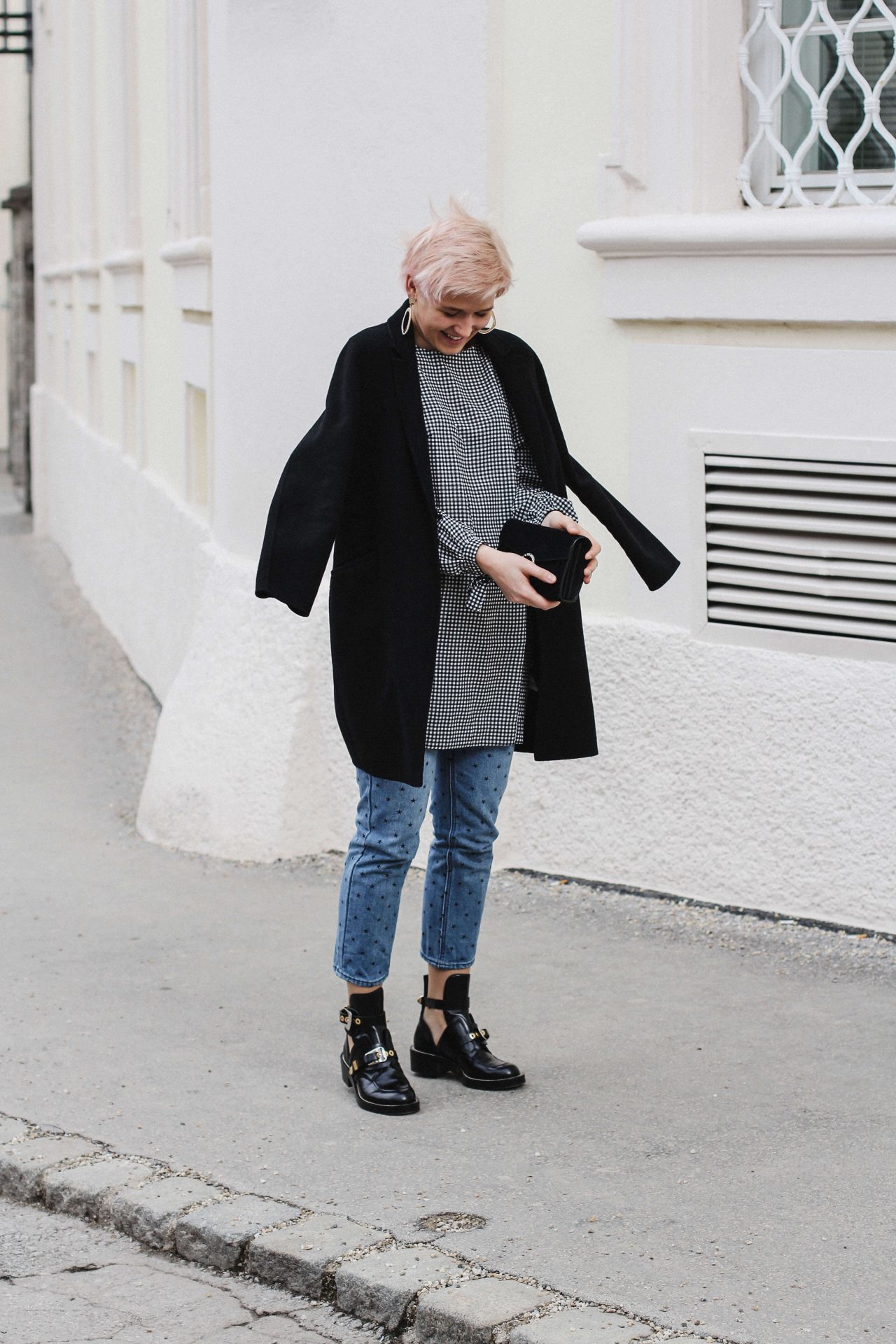 Coat: Zara | Dress: H&M | Jeans: Edited The Label | Boots: Balenciaga Ceinture | Bag: Gucci Dionysus | Earrings: Mango