A touch of pink
and the usual suspects.
So, hier ist er endlich. Der erste Outfitpost mit neuer Frisur. Ich sag's euch, so viele Komplimente wie in den letzten Tagen habe ich selten bekommen und ich muss zugeben, dass auch ich mich ganz wohl mit meiner neuen und gleichzeitig alten Farbe fühle. Ich habe die letzten 14 Jahre meine Haare blonder gefärbt, die Hälfte meines Lebens, und gerade jetzt im Winter sehe ich so doch um einiges frischer aus. Durch den rosa Touch bekommen meine Haare zusätzlich einen extravaganten Look, was dem ein oder anderen nicht so gut gefällt, mir aber umso mehr. Deshalb frische ich die Farbe auch mit einem Colour Refreshener von Mila Nila auf. Dafür reicht eine kleine Menge, die ich mit einer normalen Haarkur mische und dann gleichmäßig im Haar verteile. An dieser Stelle muss ich mich bei meinem Friseur Denis bedanken, der sich extra noch einmal Zeit genommen hat, mir zu zeigen, wie ich das auch zu Hause hinbekomme. Danke mein Lieber!
Dementsprechend zurückhaltend darf dann auch mein Outfit sein. Ich trage (endlich wieder) weiße Sneakers und dazu eine klassische Schwarz-Weiß-Kombination. Ohne meine Lieblingsbasics, der Wildledertasche von Balenciaga und der Cateye-Sonnenbrille verlasse ich momentan gar nicht das Haus und liebe es mich so luftig wie möglich zu kleiden. Ich merke von Tag zu Tag mehr wie ich es genieße, dass die Temperaturen langsam steigen und es länger hell bleibt. Obwohl ich mich schon unendlich auf den Frühling freue, mag ich auch diese Übergangstage, die schon einen Hauch von Neuanfang in sich tragen. Vielleicht bin ich aber auch so geduldig, weil es für uns nächste Woche ins Warme geht. Unsere Flitterwochen stehen endlich an und ich bin momentan noch so sehr im Alltagsmodus, dass ich es gar nicht glauben kann. Ich bin schon so gespannt und werd euch sicher mit einigen Bildern auf dem Laufenden halten (auch wenn ich mir vorgenommen habe, das Handy öfter mal beiseite zu legen).

ENG:
Here it is finally. The first outfit post with a new hairstyle. I can't tell you how many compliments I've got in last few days and I have to admit that I also feel very well with my new and at the same time old colour. I have dyed my hair blonder for the past 14 years, half of my life, and now in the winter I just look so much fresher. Due to the pink touch, my hair gets an extravagant look, which some don't like, but I just love it. That's why I use a Colour Refresher by Mila Nila from time to time with. For this, a small amount is enough – I just mix it with a normal hair conditioner and then apply it evenly in the hair. At this point I have to thank my hairdresser Denis, who took the extra time to show me how to get it done at home. Thank you my dear!
Accordingly, my outfit may be quite basic. I (finally) wear white sneakers again and a classic black and white combination. I'm not leaving the house at the moment without my favorite basics, the Balenciaga suede bag and Cateye sunglasses and I love to wear less layers. I notice from day to day how much I enjoy the rising temperatures and that it stays light longer. Although I am looking forward to spring, I also like these transition days, which already have a hint of a new beginning. Or maybe I'm so patient because we're going to a much warmer place next week. Our honeymoon is finally here and I'm still so much in everyday mode that I can rarely believe it. I'm so excited and I'm sure I'll keep you up to date with some pictures (even if I've decided to put the phone aside more often).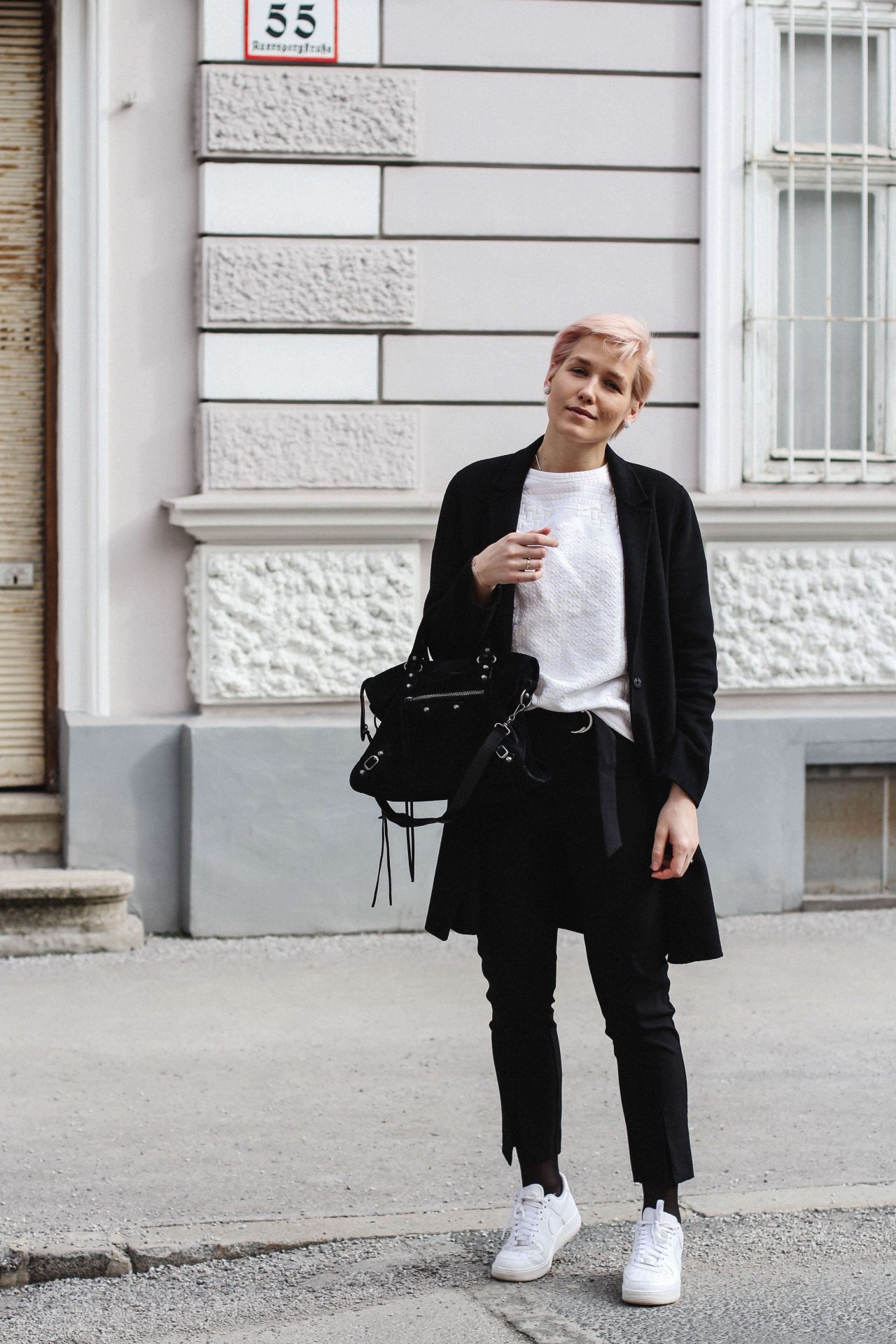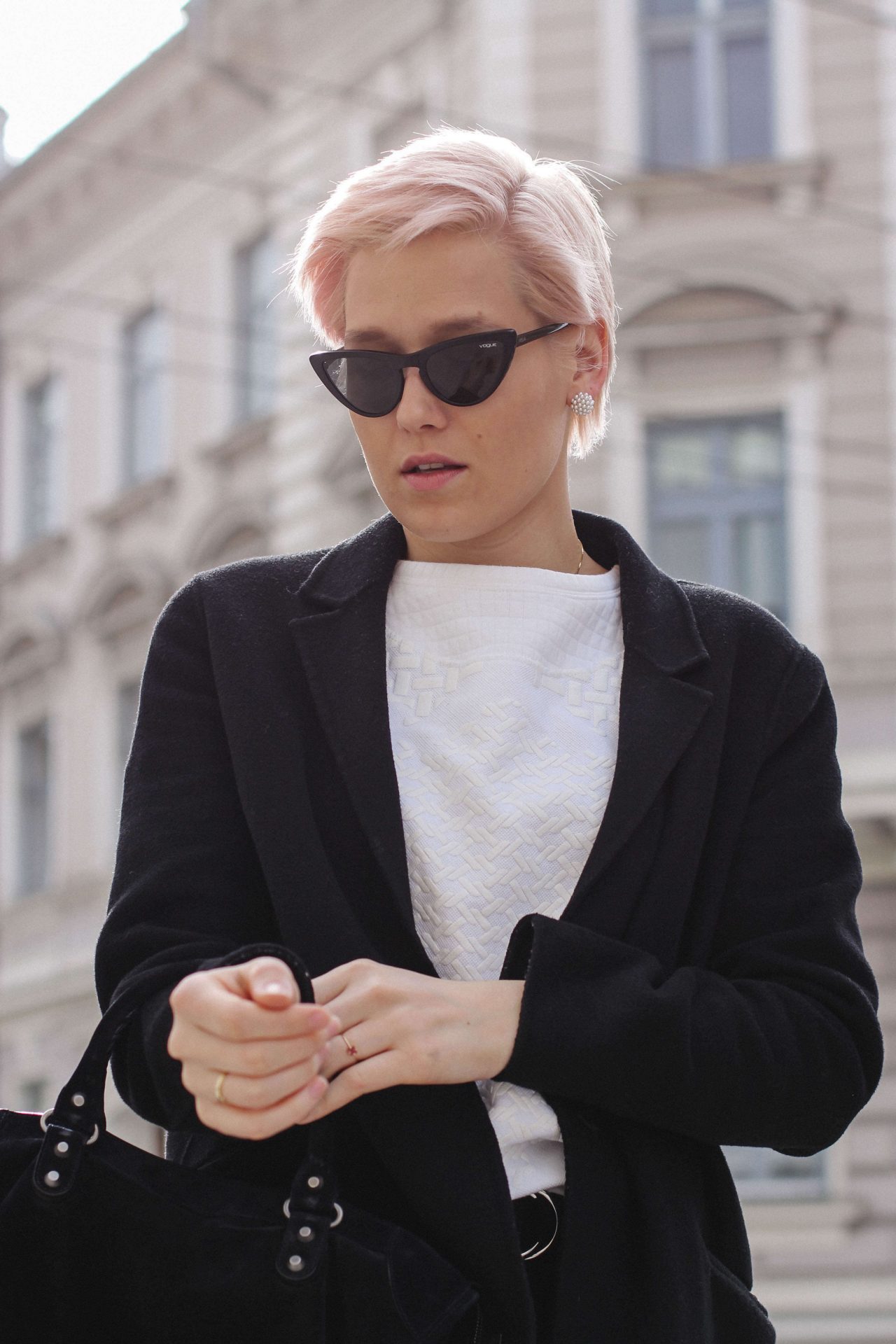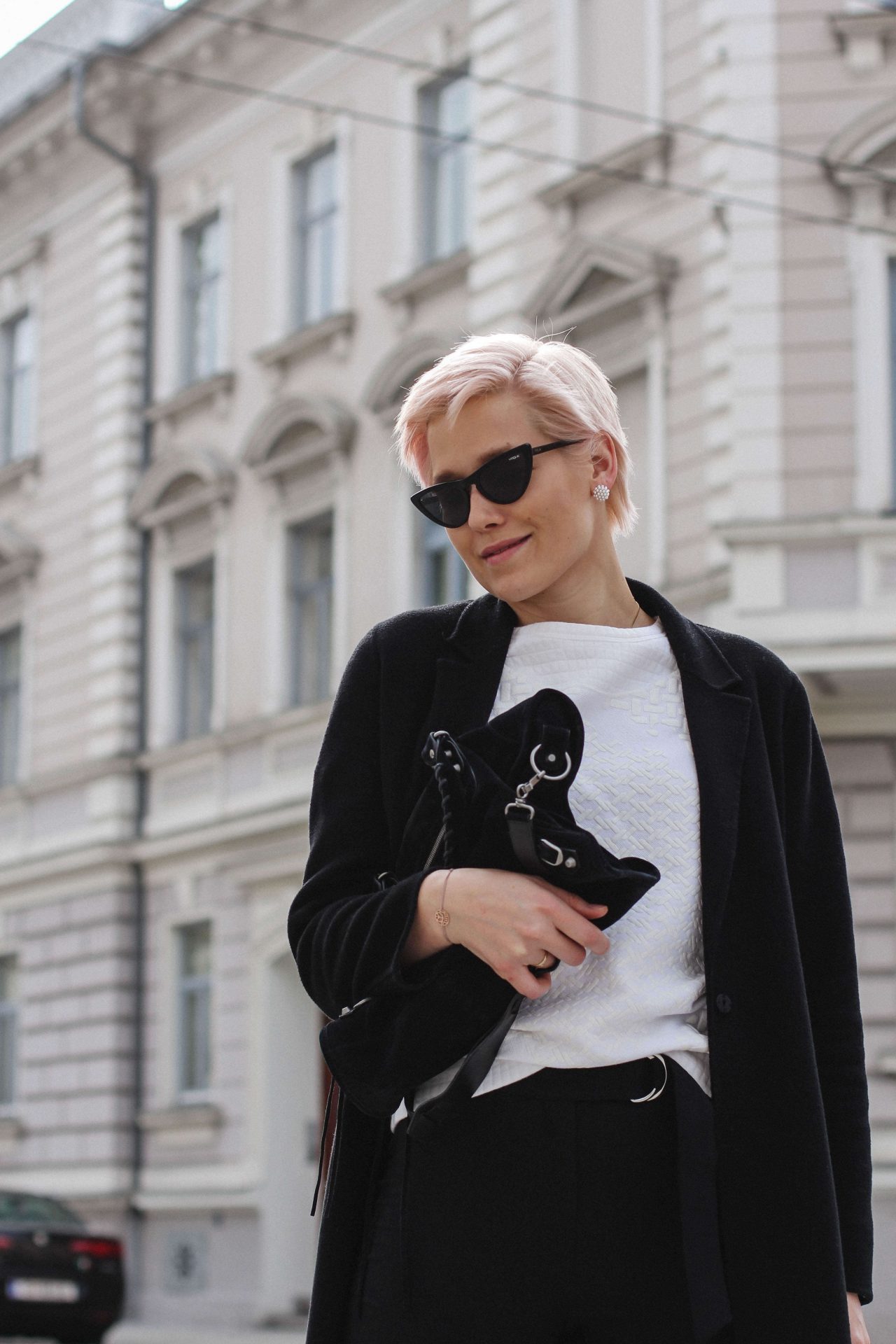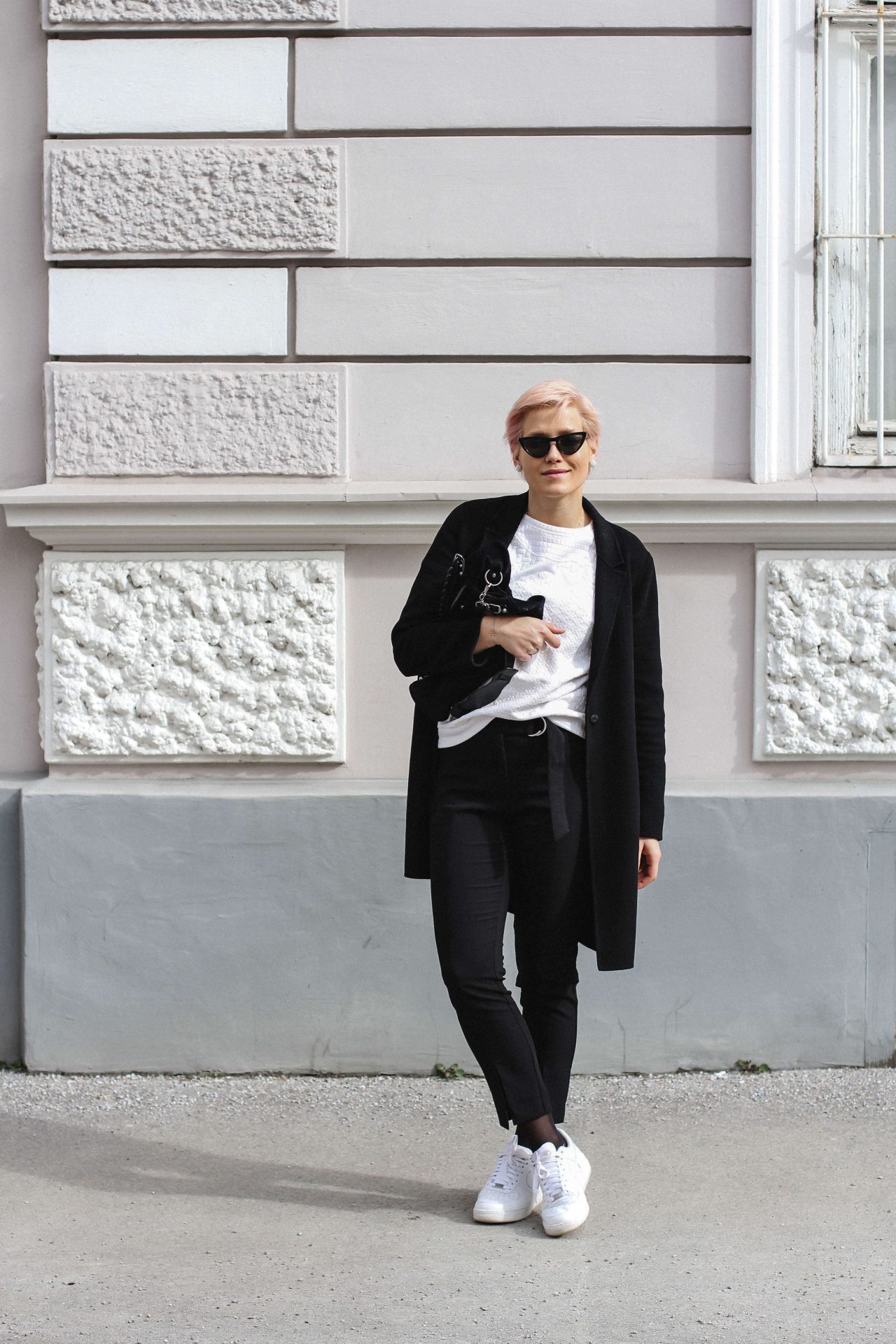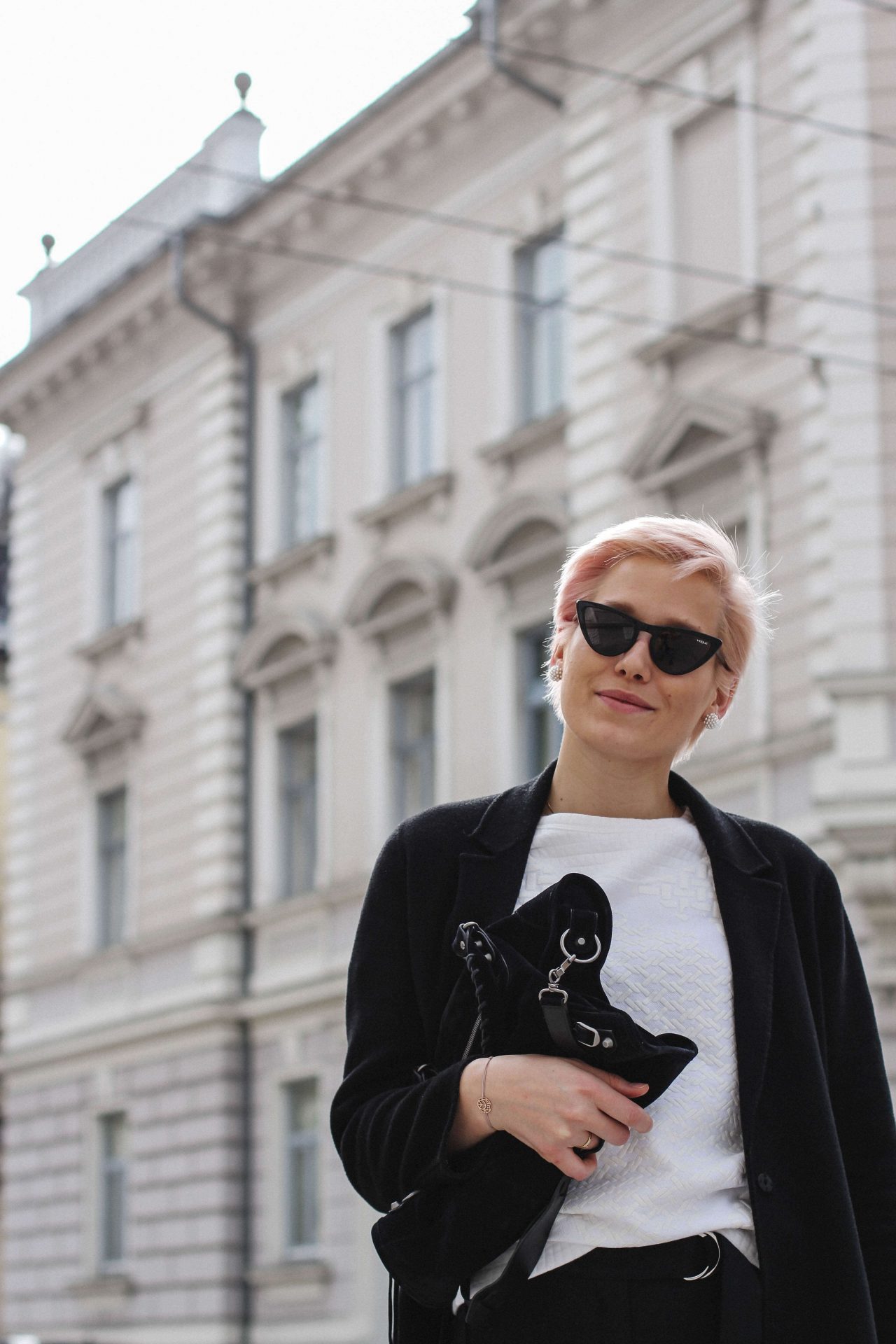 Coat and shirt: Zara | Pants: H&M | Sneakers: Nike Airforce 1 | Bag: Balenciaga City | Sunnies: Vogue Eyewear x Gigi Hadid